Aramean people: Aramean people (not to be confused with 'Armenians') speak Aramaic, the language spoken by Abraham, Moses and Jesus. They are the indigenous people of what was called in ancient times Aram- Nahrin, in our days it is called 'Mesopotamia'.
Some Arameans today identify themselves with "Assyrians", because of the spiritual colonial hate generating activities of the Western missionaries and diplomats in the Middle-East in 16th and 19th centuries. Other Arameans became known as "Chaldeans". However all of them are Arameans.
In Turkey, the Arameans are called: Süryani. In Arabic they are called Al- Suryan.
---
(Spiritual) Terror in the Mor Avgin Monastery in Switzerland
The pious and Christian monk Musee Cicek
| | | |
| --- | --- | --- |
| | | Consecration of Musee Cicek to priest monk by Mgr. J. Y. Cicek (remark: de family name "Cicek" of these two people have no any relation with each other; there are for example more people with name "Johnson"). |
Monk Musee Cicek is one of our monks who commands respect by many people who visited our Monastery in Switzerland. Musee Cicek can serve as a example to many other monks; who consider themselves ,,monks". His simplicity, devotion, hardworking and gentle nature appeals to one's imagination. Je fele confortable in the monastery if Musee Cicek is your host.
As mentioned in the report of Mgr. Cicek under section B (cassette tape 3) in 2005 the monks Musche Gorgun and Isa Oygur came back from Jerusalem. Stefanus Budak stayed behind in Jerusalem who a while later came to Belgium. Once they came from Jerusalem, the gentlemen Oygur and Gorgun went to the Monstary Mor Avgin in Zwitserland. They were received with love and respect by monk Musee Cicek who did his best to make them feel that they were welcome and had not to feel themselves as stranger.
You can go; we will take over the monastery……
Dear reader, we got the below story from the first hand. If don't want to believe, you are free to check. Probably, this well be a shock for the sympathizers the monks who in the Netherlands by some people were adorned like ,,gods".
After few days, monk Musche Gorgun went to Musee Cicek and informed as follows,, Go somewhere else, we will take over the monastery. There is no necessity for you to stay here anymore, find for yourselves other place and go"
These forms not only evidence of shamelessness and brutality; but also form a great attack on humanity, dignity and standards – as far as they bear something of standards and values in themselves.
Monk Musee Cicek was astonished en didn't know what to say about it. It was him spent his entire life in the St. Avgin monastery, it was him who by hardworking made splendid garden in the monastery; it was him who put himself out make the environment of the monastery as nice as possible. And now he could leave the monastery as told by the gentle Gorgun and Oygur so that they could take over the monastery? To go in short: Brutal, shameless, cruel and inhuman!!! One can ask the question how it possible could be that many you people followed without any reservation!
Monk Musee Cicek informed Gorgun that he would inform Mgr. Cicek about this happening; something which of course Gorgun realised that it not be in his advantage. A few hours later, he went to Musee Cicek and made his excuses and asked him please not say anything to Mgr. J. Y. Cicek. The reply of Musee Cicek was that he not contact him. Whether coincidental or not; a few days later Mgr. Cicek contacted Musee Cicek to ask about the behaviour of the monks whereupon he told him everything what happened. The answer of Mgr. Cicek was,, I had expected like that, I am going to report to the Patriarch and Mgr. Benjamin Atas". A few days later the gentlemen monks Gorgun and Oygur found out that Mgr. Cicek was busy with a rapport about them; totally unexpected in the morning they packed the bags and went to Sweden.
Their friends in Holand…..
To cover their shameless and unholy acts against monk Musee Cicek, they provided their slaves in Holland with most horrible information producing a lot of gossip. The stories were doing the rounds that the church councils would have given money to Mgr. Cicek to kick out these monks from Switzerland. What a dirty mean trick! In particular their silly slaves- what a people; just very awful that human being can be misguided in that way! Another story, which was spread by their friends in Holland, was that they would stay temporary in Switzerland and had no intention to establish them there. If this is true, why were the gentle monks so eager to kick monk Musee Cicek out of the monastery and take over the matter? What kind of dirty and inhumane tricks are these? Very silly for their friends in Holland to let them be taken in by these monks and become their tool!
Monk Stefanus Budak
A few months later, somewhere in July/august 2005 Musee Cicek asked Mgr. Cicek to send monk Stefanus Budak to Switzerland to help him there. The argumentation of Musee Cicek was as follows,, We are here left with few of us and have lack of help in teaching Aramaic and other issues. Monk Stefanus is quite en will be good helper to serve our people". The answer of Mgr. Cicek was,, My son, you don't know him! He seems quite, but be careful with him! He may put you to great troubles! For these reason I would advise you against his coming to Switzerland". Musee Cicek however urged Mgr. J. Y. Cicek and finally he send Stefanus to Switzerland.
Once arrived in Switzerland, he was received in brotherly love by monk Musee Cicek and tried to make him feel at home and comfortable as possible. After a while, the monastery became crowded because of student who came to learn Aramaic. Monk Musee Cicek asked Stefanus to please help him in giving lesson Aramaic. Stefanus replied,, Who are you to assign me a task?" And immediately went to his room and closed the door behind him. Days after days there was no communication possible with monk Stefanus and tormented campaign started against monik Musee Cicek. Every attempt of Musee Cicek to talk were fruitless. Stefanus was regularely in contact with his friends Mushe Gorgun and Isa Oygur to inform about the ins and outs of the monastery.
At the slightest discussion between stefanus and Musee Cicek, he immediately contacted his friends in Sweden to contact Mgr. Benjamin Atas in order to make a complaint to the Patriarch against monk Musee Cicek in order to get him out of the Monastery Mor Avgin. In this way monk Musee Cicek was spiritually terrorised months after months, day after day and couldn't go anywhere. As if this spiritual campaign against him was not enough, Stefanus Budak told him,, It is a mistake/sin that spirituality has become upon you". This is the worse thing you can say to a colleague monk. In English this is little bit difficult to express, however in Aramaic it is horrible!
The strategy of spiritual was against Musee Cicek was a sneaky one! As sneaky he was, when people visited the monastery, in their present he acted very beloved, pious and tender; however at the moment the visitors left monastery; he again returned to his old habit terrorising monk Musee Cicek. Later monk Musee Cicek stated on this issue,, What happened to me; it was my mistake; because I had better to listen to Mgr. Cicek and should not let him come to the St. Avgin Monastery"
The girls and their mothers
Some girls and their mothers were so impressed by this monks that almost one could say ,,that they were hypnotised by these monks" and that they would be prepared to do everything for them. They saw them as saints, as rescuers. It was just astonishing! They didn't want to hear anything negative about them,, all these stories were from their opponents", they said. A few times they went to the St. Aphrem monastery to demonstrate their sympathy to the monks and in deeper sense to condemn the behaviour of Mgr. J. Y. Cicek. Some of these boys were so stirred up that they entered the monastery and searching all the rooms for Mgr. J. Y. Cicek. The most remarkable observation was that the majority of the ,,supporters of these monks" the hatred and contempt towards Mgr. J. Y. Cicek considered as something obvious to them. They constantly were speaking of the mistakes of Mgr. J. Y. Cicek. That worse can be if you have no strong (Christian) foundation under your foots and are not prepared to think soberly. Exactly the same fanaticism and blindness is observed with people who are brainwashed by the Western colonisation product,, Assyrians". In spite of this; some girls were able on time to duck out of the (spiritual) power of these monks. Others remain until today ,,faithful" to these monks. How is this possible?
Actually and factually, from the spiritual point of view, it is very simple. The Holy Bible tells us,, Remember that there will be difficult times in the last days. People will be selfish, greedy, boastful, and conceited; they will be insulting, disobedient to their parents, ungrateful, and irreligious; they will be unkind, merciless, slanderers, violent, and fierce; they will hate the good; they will be treacherous, reckless, and swollen with pride; they will love pleasure rather than God; they will hold to the outward form of our religion, but reject its real power. Keep away from such people. Some of them go into people's houses and gain control over weak women who are burdened by the guilt of their sins and driven by all kinds of desires, women who are always trying to learn but who can never come to know the truth (2 Timothy 3:1-7)
Please stand still and read carefully the following,, Some of them go into people's houses and gain control over weak women who are burdened by the guilt of their sins and driven by all kinds of desires, women who are always trying to learn but who can never come to know the truth
This came literally true! Indeed, there we some girls who captured by the guilty of sexual wildness and desires and indeed some of them ,,found the true faith" thanks to these monks – and had bad past! Some mothers eagerly went with their daughters to these monks to ,,take confession"; these were their saviours!
However, dear reader, this is real drama! En that is,, but who can never come to know the truth.
The same spiritual "prisoner ship" can be applied to these who are brainwashed by the criminal Western spiritual Colonisation product,, Assyrians". What ever you try to tell the them, it make no sense to them, so deep and complete are they captured!
Bishop of Germany to Switzerland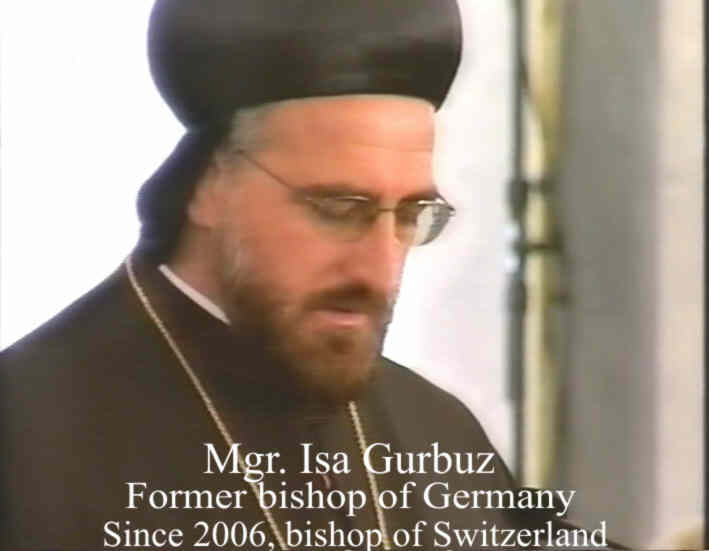 Beginning 2006, bishop Isa Gurbuz of Germany went to Switzerland. However, he made the express condition that monk Stefanus first should be removed from the Monastery Mor Agin. The reason for this was of course that Mgr. Gurbuz knew Stefanus very well at time he was in Germany and the troubles he and his friends caused. As it is mentioned in the report of Mgr. J. Y. Cicek, they also made big troubles in Germany.
Stefanus was moved to Germany and Isa Gurbuz went to the Mor Avgin Monastery in Switzerland. In this way, monk Musee Cicek was freed from the spiritual terror campaign of Stefanus and his friends!
---
(Geestelijke) Terreur in het Mor Avgin Klooster in Zwitserland
De vrome en christelijke monnik Musee Cicek
| | | |
| --- | --- | --- |
| | | Inwijding Musee Cicek tot priestermonnik door Mgr. J. Y. Cicek (Opmerking: de achternamen van deze mensen hebben geen familieband met elkaar; er zijn meerdere mensen met de naam Jansen, zo ook Cicek) |
Monnik Musee Cicek is een van onze monniken die respect dwingt bij velen die een bezoek hebben gebracht aan onze klooster in Zwitserland. Musee Cicek kan als een voorbeeld dienen voor vele monniken die zich ,,monnik" noemen. Zijn eenvoud, toewijding, hardwerken en zachte karakter spreken tot verbeelding. Je voelt je in het klooster thuis als Musee Cicek jouw gastheer is.
Zoals vermeld in het rapport van Mgr. Cicek onder sectie B (Cassetteband 3) kwamen in 2005 de monniken Isa Oygur en Musche Görgün terug uit Jeruzalem. Stefanus Budak bleef achter in Jeruzalem die ook een tijd later naar België kwam. Eenmaal uit Jeruzalem, gingen de heren Oygur en Gorgun naar het klooster Mor Avgin in Zwitserland. Ze werden daar met alle liefde ontvangen door monnik Cicek die zich uitsloofde om hen naar de zin te maken en het gevoel te geven dat ze welkom waren en zich niet als vreemden hoefden te voelen.
Je kunt nu weggaan, wij nemen het over….
Geachte lezer, onderstaande verhaal hebben wij uit de eerste hand. Als U het niet wilt geloven, kunt U gewoon nachecken. Dit zal wellicht een schok zijn voor de sympathisanten van de heren monniken die in Nederland door sommigen werden vereerd als ,,goden".
Na paar dagen ging monnik Mushe Gorgun naar monnik Musee Cicek en deelde hem het volgende mee,, Ga ergens anders heen, wij nemen het klooster over. Je bent hier niet meer nodig, zoek een plek voor jezelf ergens anders".
Dit getuigd volgens ons niet alleen van schaamteloosheid en brutaliteit, maar doet tevens een groot geweld aan de menselijkheid waardigheid en normen.
Monnik Musee Cicek stond hier versteld van en wist niet wat hij moest zeggen. Hij was het die zijn hele leven in het Mor Avgin heeft doorgebracht, hij was het die door het hardwerken de klooster een prachtige tuin heeft bezorgd, hij was het die zich uitsloofde om de leefomgeving van het klooster zo mooie mogelijk te maken. En nu kon hij weggaan van de heren Gorgun en Oygur zodat zij de zaak konden overnemen. Als dit allemaal waar is; dan kan heel kort worden gezegd : Brutaal, schaamteloos, wreed en onmenselijk!! Je kunt je afvragen hoe het nu mogelijk is geweest dat die massa jongeren zonder reserve achter hen aanliepen.
Monnik Musee Cicek deelde de heer Gorgun mede dat hij Mgr. Cicek hiervan op de hoogte zou brengen; iets wat natuurlijke Gorgun zich realiseerde dat het niet in zijn voordeel zou werken. Paar uur later ging hij naar Musee Cicek en bod zijn excuus aan en vroeg om alstublieft niets te zeggen tegen Mgr. J.Y. Cicek. Waarop Musee Cicek beloofde dat hij het van af zou zien om contact te nemen met Mgr. Cicek. Toevallig of niet, paar dagen later belde Mgr. Cicek Musee Cicek op om te vragen naar het gedrag van de monniken waarop Musee Cicek hem alles vertelde wat hij mee had gemaakt. Het antwoord van Mgr. Cicek was,, Dat had ik verwacht, ik zal nu rapporteren aan de Patriarch en Mgr. Benjamin Atas". Paar dagen later kwamen de heren monniken Gorgun en Oygur erachter dat Mgr. Cicek bezig was met een rapportage over hen en onverwachts op een morgen pakten ze hun koffers en gingen richting Zweden.
Hun vrienden in Nederland….
Om hun onheilige daden tegenover monnik Musee Cicek te verdoezelen, hebben ze hun vrienden in Nederland van walgelijke informatie voorzien die dan ook voor vele roddels zorgden. Zo deed het verhaal de ronde dat de kerkenraden Mgr. Cicek geld zou hebben gegeven om de monniken uit Zwitserland weg te jagen. Wat een smerige streek! En vooral hun zielige vrienden- wat een lui; gewoon heel erg dat een mens zo kan dwalen. Een andere verhaal die zij lieten spreiden via hun vrienden in Nederland was dat zij slechts tijdelijk in Zwitserland zouden blijven en hadden dus geen intentie om zich voorgoed te vestigen. Als dat inderdaad waar is, waarom wilden de heren dan monnik Musee Cicek het klooster uitjagen en de zaak overnemen? Wat zijn dat voor smerige en onmenselijke streken? Buitengewoon zielig voor hun vrienden in Nederland om zich zo te laten inpakken en voor hun karretje te laten spannen.
Monnik Stefanus Budak
Paar maanden later, ergens in juli/augustus 2005 vroeg monnik Musee Cicek aan Mgr. J. Y. Cicek of hij alstublieft monnik Stefanus Budak naar Zwitserland wilde sturen om hem te helpen. De redenering van Musee Cicek was het volgende,, Wij zijn hier met weinigen en kunnen goed hulp gebruiken in het onderwijzen van Aramees en aderen zaken. Monnik Stefanus is rustig en zal daarbij een goede hulpkracht zijn om het volk te dienen". Het antwoord van Mgr. Cicek was,, Mijn zoon, je kent hem niet! Hij lijkt rustig, maar pas op! Hij zal je veel last en kopzorgen bezorgen! Ik raad het daarom af om hem naar Zwitserland te sturen". Monnik Musee Cicek drong aan bij Mgr. Cicek en uiteindelijk stuurde hij Stefanus naar Zwitserland.
Eenmaal in Zwitserland aangekomen, werd hij in alle broederlijke liefde ontvangen door monnik Musee Cicek en probeerde Stefanus het gevoel te geven dat hij welkom was. Na een tijdje kreeg men erg druk in het klooster omdat er leerlingen kwamen om Aramees te leren. Monnik Musee Cicek vroeg aan Stefanus Budak om alstublieft mee te helpen met het onderwijzen in het Aramees. Het antwoord van Stefanus was,, Wie ben jij om mij op te dragen wat wel en niet te doen?" En ging meteen naar zijn kamer en deed de deur op slot. Dagen achtereen was geen communicatie mogelijk met Stefanus en begon de treiter campagne tegen monnik Musee Cicek. Iedere poging van Musee Cicek om te praten belandde in het niets. Stefanus stond heel vaak met zijn vrienden, monniken Mushe Gorgun en Isa Oygur, in contact over het reilen en zeilen in het klooster.
Bij geringste discussie tussen Stefanus en Musee Cicek, belde hij meteen zijn vrienden in Zweden op om contact op te nemen met Mgr. Benjamin Atas om bij de patriarch klacht in te dienen tegen monnik Musee Cicek om hem de klooster Mor Avgin uit te jagen. Op deze manier werd Musee Cicek geestelijk geterroriseerd en kon hij geen kant meer op en dit maanden achtereen, dag in en dat uit. Alsof deze campagne niet genoeg was zei Stefanus Budak tegen hem nog,, Het is zonde dat de geestelijkheid over jouw is gekomen". Dat is ongeveer het ergste wat je tegen collega monnik kunt zeggen. In het Nederlands is het heel moeilijk uit te drukken; maar in het Aramees is het een gruwelijke uitspraak.
In het klooster ging hij heel sluw te werk. Als mensen op bezoek waren, deed hij heel lief, vroom en zorgzaam en als de bezoekers weggingen; nam hij zijn oude gewoonte weer aan en terroriseerde monnik Musee Cicek. Later zei Musee Cicek in deze kwestie,, Wat mij nu overkomt is mijn fout, ik had moeten luisteren naar Mgr. Cicek en hem niet mogen laten komen naar het Mor Avgin Klooster".
De meisjes en hun moeders
Opvallend was dat sommige meisjes en hun moeders zo onder de indruk waren dat je bijna kunt spreken van "hypnose door de monniken" dat ze werkelijk alles voor hen wilden doen. Zij zagen hen bijna als heiligen, als verlossers. Je stond gewoon versteld van. Men wilde niets negatiefs over hen horen, "het waren allemaal verhalen van hun tegenstanders", zo zei men. Diverse malen ging men naar Dayro om demonstratief hun sympathie onder woorden te brengen en eigenlijk hun afkeuring te demonstreren aan Mgr. J.Y. Cicek. Sommige jongens waren zo opgefokt dat ze het klooster binnengingen en alle kamers onderzochten op zoek naar Mgr. Cicek. En het merkwaardige was dat bij de meerderheid van deze mensen de haat en minachting jegens Mgr. J.Y. Cicek een vanzelfsprekende zaak leek te zijn. Ze spraken constant over de fouten van Mgr. Cicek. Zo erg kan het zijn als jij geen fundament onder je voeten hebt en niet bereid bent om nuchter na te denken. Toch hebben sommige meisjes zich op tijd kunnen ontrekken aan de macht van deze monniken. Anderen zijn tot de dag van vaandag "trouw" gebleven aan deze monniken. Hoe kan zoiets?
Eigenlijk heel simpel; dat wil zeggen vanuit geestelijke oogpunt gezien! De Bijbel zegt tegen de kinderen van de kerk,, 1 Onthoud het volgende goed: wanneer de laatste dagen van deze wereld aanbreken, komen er zware tijden. 2 De mensen zullen egoïstisch zijn en op geld belust, verwaand en hoogmoedig, anderen beledigen en hun ouders de gehoorzaamheid weigeren; ze zullen ondankbaar zijn, niets heilig achten, 3 geen gevoel tonen en onverzoenlijk zijn, kwaadspreken, zichzelf niet beheersen en wreed en onmenselijk zijn tegenover anderen; 4 verraderlijk, roekeloos en opgeblazen, meer gehecht aan genot dan aan God; 5 ze houden zich aan de uiterlijke vorm van onze godsdienst, maar ze verwerpen de kern ervan. Houd dergelijke lieden op een afstand. 6 Sommigen van hen dringen in bepaalde kringen binnen en krijgen goedgelovige vrouwen in hun macht die, gebukt onder hun zondig verleden en gedreven door allerlei verlangens, 7 altijd onderricht willen worden maar nooit in staat zijn de waarheid te erkennen" (2 Timoteus 3:1-7)
Sta alstublieft stil bij het volgende,, Sommigen van hen dringen in bepaalde kringen binnen en krijgen goedgelovige vrouwen in hun macht die, gebukt onder hun zondig verleden en gedreven door allerlei verlangens, 7 altijd onderricht willen worden maar nooit in staat zijn de waarheid te erkennen
Dit is letterlijk in vervulling gegaan! Er waren inderdaad meisjes die gebukt gingen onder hun seksuele verwildering en verlangens en er waren inderdaad sommige meisjes die "tot geloof kwamen" dankzij de monniken en een slechte verleden achter de rug hadden. Sommige moeders gingen graag met hun dochters naar de monniken om te "biechten"; dit waren hun verlossers.
Maar er is toch wel een drama! En dat is dit,, maar nooit in staat zijn de waarheid te erkennen" Triestig allemaal! Dezelfde geestelijke ,,gevangenschap" kan worden waargenomen bij diegene die zijn gehersenspoeld door de verwerpelijke Westerse geestelijke kolonisatie product,, Assyriers". Wat je ook tegen hen zegt, het heeft geen zin, zo diep en volledig zijn ze gevangen.
Bisschop van Duitsland naar Zwitserland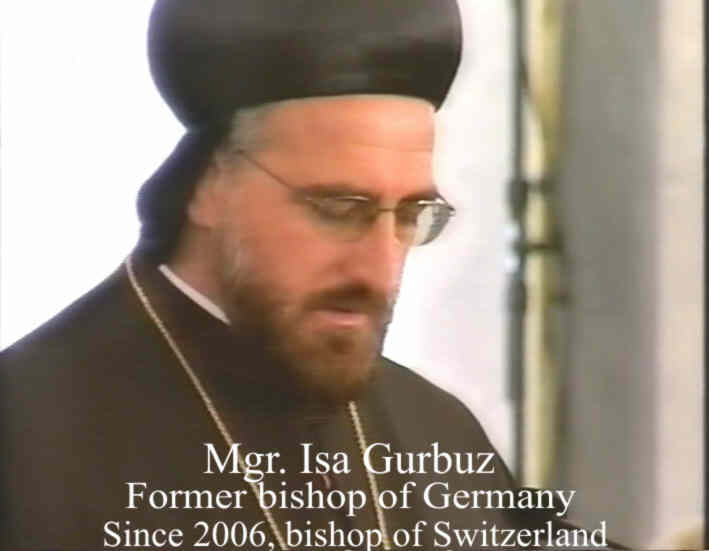 Begin 2006 ging bisschop Isa Gurbuz van Duitsland naar Zwitserland. Hij stelde echter als voorwaarde dat monnik Stefanus het klooster Mor Avgin diende te worden uitgezet. De reden hiervoor was natuurlijk dat Mgr. Gurbuz Stefanus (en zijn vrienden) nog kende in Duitsland van zijn niet al te heilige gedrag. Immers, zoals Mgr. Cicek zegt, ook in Duitsland begonnen deze mensen moeilijkheden te veroorzaken.
Stefanus werd naar Duitsland gestuurd en Isa Gurbuz trok het Mor Avgin in Zwitserland binnen. Monnik Musee Cicek werd zodoende verlost van de geestelijke terreur campagne van Stefanus en zijn vrienden!
---

Subscribe to our newsletter.
Copyright © Aram-Naharaim Organization. All rights reserved.
You have the permission to publish this article only if you add the complete link to it..