Aramean people: Aramean people (not to be confused with 'Armenians') speak Aramaic, the language spoken by Abraham, Moses and Jesus. They are the indigenous people of what was called in ancient times Aram- Nahrin, in our days it is called 'Mesopotamia'.
Some Arameans today identify themselves with "Assyrians", because of the spiritual colonial hate generating activities of the Western missionaries and diplomats in the Middle-East in 16th and 19th centuries. Other Arameans became known as "Chaldeans". However all of them are Arameans.
In Turkey, the Arameans are called: Süryani. In Arabic they are called Al- Suryan.
---
The mysterious kidnapping of the two Aramean bishops, the contradictory reports in some media, the possible responsible ones …. and the possible dénouement…………..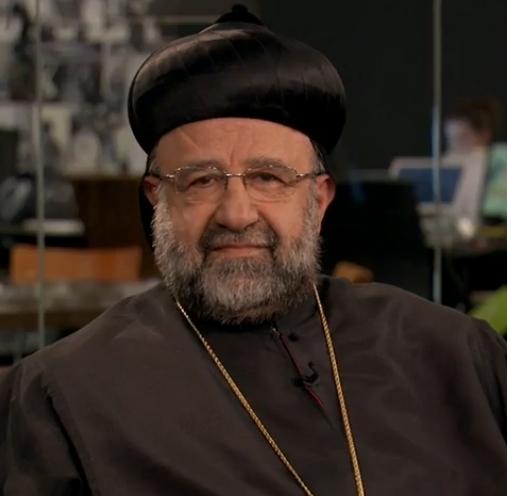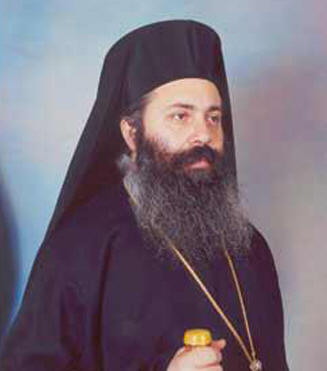 On 22-4-2013 two Aramean bishops from Aleppo, Syria were kidnapped by terrorists. Mgr. Yohanna Ibrahim of the West- Aramean Syrian Orthodox Church and Mgr. Paul Yazigi of the West-Aramean Syrian Melkite (Greek) Orthodox Churca. Both of them were kidnapped on their way back to Aleppo from tborder-crossing of Bab Al- Hawa at the Turkish border. The driver of Mgr. Yohanna Ibrahim was immediately killed by the terrorists.
Until now, the whereabouts of both bishops is unknown. The both Aramean churches grope in the dark about kidnapping. On 23-4-2013 a "Joint Communique Of The Greek Orthodox Patriarchate Of Antioch and all the East And The Syriac Orthodox Pariarchate of Antioch and all the East" was issued about the kidnapping by both Aramean patriarchs.
There is international activity, pressure and prayers for the release of both bishops. We mention few examples:
7-5-2013: International effort for the release of the Bishops kidnapped, but beware of fake mediators
30-4-2013: Religious leaders push for kidnapped bishops' release
29-4-2013: Cardinal Dolan urges freedom for kidnapped bishops
27-4-2013: Pressure mounts to release kidnapped Syrian bishops
The Organization of Islamic Cooperation joined in on Saturday calling for the "unconditional" release of two Christian bishops held captive in Syria. This follows similar statements from the Greek and Russian Orthodox Churches
26-4-2013: Pope Prays for Orthodox Archbishops Kidnapped in Syria
26-4-2013: Muslim clerics in Syria urge release of kidnapped bishops
In addition, on 29-4-2013, 55 organizations from Middle-East condemned kidnapping of the Aramean bishops in a statement entitled: "A joint statement by the organizations, bodies, and centers for the defense of human rights in Syria and the Arab world ""
In some media conflicting reports emerged on the kidnapping of both bishops claiming release of both of them like for example in Reuters (23-4-2013), Daily Star (23-4-2013) and Aljazeera (23-4-2013).
Who the perpetrators are of this outright insidious, objectionable, tasteless and criminal act is so far unknown. However if we carefully examine those who are responsible for the misery and havoc that is now taking place in Syria, the following countries are being identified in various analyses and comments, namely: United States and European allies (particularly France and United Kingdom), Turkey, Gulf States and Saudi- Arabia.
For example: Professor Michel Chossudovsky wrote on 28-5-2012 in an article entitled" THE SALVADOR OPTION FOR SYRIA": US-NATO Sponsored Death Squads Integrate "Opposition Forces": It is worth noting that Obama's newly appointed CIA head, General David Petraeus played a key role the organization of covert support to Syria's rebel forces, the infiltration of Syrian intelligence and armed forces, etc...........................
The CIA is overseeing covert ops in Syria. In mid-March, General David Petraeus met with his intelligence counterparts in Ankara, to discuss Turkish support for the Free Syrian Army (FSA) ( CIA Chief Discusses Syria, Iraq With Turkish PM, RTT News, March 14, 2012)...............................
Under Jeffrey Feltman's supervision, the actual recruitment of terrorist mercenaries, however, is carried out in Qatar and Saudi Arabia in liaison with senior intelligence officials from Turkey, Saudi Arabia, Qatar, Libya and NATO...........
------------------------------------------------------
This means that the terrorist group, no matter the name they use to identify themselves with, responsible for the kidnapping of these two bishops, would not have committed this crime without approval of above mentioned countries. That is simply out of the question.
In our analysis of 21-1-2013 entitled "Iraq: Aramean teacher and student killed in Mosul" we quoted from another analysis of professor Michel Chossudovsky and commented as follows:
----------------------------------
On 4th of January 2013 an analysis was published by professor Michel Chossudovsky entitled, "Terrorism with a "Human Face": The History of America's Death Squads

.

Death Squads in Iraq and Syria. The Historical Roots of US-NATO's Covert War on Syria"

Professor Chossudovsky elaborates in detail the role of colonial Western death-squads and mercenaries in Iraq that is today being copied and repeated in Syria.

On the role of United States he says: "The recruitment of death squads is part of a well established US military-intelligence agenda. There is a long and gruesome US history of covert funding and support of terror brigades and targeted assassinations going back to the Vietnam war."

On Syria, professor Chossudovsky says: "As government forces continue to confront the self-proclaimed "Free Syrian Army" (FSA), the historical roots of the West's covert war on Syria –which has resulted in countless atrocities– must be fully revealed."

"From the outset in March 2011, the US and its allies have supported the formation of death squads and the incursion of terrorist brigades in a carefully planned undertaking."

On the "Salvador Option" in Iraq and Syria he says: "The recruitment and training of terror brigades in both Iraq and Syria was modeled on the "Salvador Option", a "terrorist model" of mass killings by US sponsored death squads in Central America. It was first applied in El Salvador, in the heyday of resistance against the military dictatorship, resulting in an estimated 75,000 deaths"

According to Michel Chossudovsky is "the formation of death squads in Syria builds upon the history and experience of US sponsored terror brigades in Iraq, under the Pentagon's "counterinsurgency" program"

To combat the rebellion in Iraq, in 2005 Pentagon was considering "forming hit squads of Kurdish and Shia fighters to target leaders of the Iraqi insurgency [Resistance] in a strategic shift borrowed from the American struggle against left-wing guerrillas in Central America 20 years ago"

Unfortunately the forming of these death-squads had a different goal and the so-called "Al Qaeda" in Iraq was under the supervision of secret services of Western colonial powers: "While the stated objective of the "Iraq Salvador Option" was to "take out the insurgency", in practice the US sponsored terror brigades were involved in routine killings of civilians with a view to fomenting sectarian violence. In turn, the CIA and MI6 were overseeing "Al Qaeda in Iraq" units involved in targeted assassinations directed against the Shiite population. Of significance, the death squads were integrated and advised by undercover US Special Forces"

If the analysis of Professor Michel Chossudovsky even for a tiny part is reliable, it sheds important light on the horrific events in 2008 in Mosul whereby more than 15.000 Aremans of various denominations were driven away and dozens of them murdered. On this awful ethnic cleansing we published at that time two analysis, namely:

Attempt of ethnic cleansing Mosul: The Aramean Srebrinica. Who is responsible and why?

http://www.iraqichristians.org/English/Mosul_Aramean_Srebrinica_27_10_2008.htm

In this analysis we quoted the Iraqi Parliamentarian Mr. Osama Najifi, now the chairman of Parliament, on the abominable events in Mosul. We wrote:

* The Member of Iraqi Parliament, Osama Al Naijifi holds Iraqi government responsible for what is happening with the Christians in Mosul and accuses Kurdish militia to drive the Christians out of the city

* On Monday, Naijifi explained to the Independent Press Agency (IBA) that the Kurdish security forces (Peschmerge) and elite forces (Asaisch) use Iraqi Army vehicles to intimidate the Christian community in Mosul by provocative manifestations

* He noted that the military forces in Mosul are being influenced by Kurdish militia and circulate threatening/inflammatory messages with the goal to expel the Christians out of their homes and underscores that the police (of Iraq) has arrested a group of people in military uniform, among them a captain of Iraqi army who were responsible for such threats

*Furthermore, Mr. Najifi says that the Iraqi army in Mosul receives their instruction from Kurdish Asaisch and Peschmerges to intimidate other groups with the aim to Kurdify the entire region, for expansionistic reasons, and to change the demographic identity of the city

* Yesterday, Najifi also explained that the Iraqi forces had forced three Christian families in the district Sukker, north of Mosul, to leave their homes and subsequently blown up the houses

* He underlines that the Kurdish parties since a year dominate the city and try to expand their hegemony. They also want to change the identity of the city for their expansionistic interests. To achieve this, they first have to remove the Christians to a special area. And then they safely can make of the entire area a Kurdish province. He indicates that this resembles to what has happened with minorities like Shabak and Alasidep

(Please find here the second related article we published on 29th of august 2009: http://www.iraqichristians.info/English/Great-Israel_Ethnic_cleansing_Iraq_Arameans_29_8_2009.htm)

In the light of aforementioned analysis, it is definitely imaginable that the horrific crimes committed in Mosul in 2008 and in other parts of Iraq against the Aramean nation were indeed carried out by the special units that were formed by the Americans and in the mainstream media were termed as "Al Qaeda." That explains the attitude of Americans and British regarding blowing up and burning of the Aramean churches, killing of their clergy, carrying out ethnic cleansing and forcing them into Diaspora. And the same criminal technology is now being repeated in Syria by the odious demonic colonial powers to destroy the country and chase away the Aramean indigenous nation of Syria that have been inhabiting the area since thousands of years.
------------------------------------------
We repeat again: No matter who the perpetrators are of this criminal act, they would have not committed the crime without approval of the above mentioned countries who have planted these terrorists and mercenaries in Syria to cause bloodbaths, slaughtering and commit ethnic cleansing. To be perfectly clear: Particularly without approval of Americans and Turks.
2. A strange article in Daily Star of 25-4-2013
Daily Star of 25-4-2013 reported in an article entitled "Gul says spoke to kidnapped bishop: source": "Turkish President Abdullah Gul informed officials in the Syriac Orthodox Church Thursday that he had spoken with Yuhanna Ibrahim, the Syriac Orthodox bishop who was kidnapped in Aleppo earlier this week."
The source of Daily Star: "Bishop Daniel Kourieh of the Syriac Orthodox Church in Beirut told The Daily Star he was informed by Patriarch Zakka Iwas that Gul "personally spoke" to Bishop Ibrahim"
In the same article however it is denied that Gul spoke with bishop Ibrahim: "Gul spoke to a bishop in the Syriac Orthodox Church in Turkey and informed him that Turkey is exerting efforts for the release of bishops Boulos Yaziji and Yuhanna Ibrahim," Efram told the Voice of Lebanon radio station"
See also this article about alleged talk between bishop Yohannon Ibrahim and Abdullah Gul:
Turkish president speaks to one of kidnapped Syrian bishops
The pertinent question is now: Is there a misunderstanding in communications or is there more going on? Is it possible that Turkey knows more about it and what could be the reason? Before we continue, first three remarks will be made regarding Aleppo in relation to Turkey.
1. Aleppo is situated about 40 km from Turkish border. This means that the region is under influence of Turkey.
2. On 17-1-2013 Sana-Syria.com reported in an article entitled "Al-Shihabi: We Have Decisive Evidence on Turkey's Involvement in Robbing Factories in Aleppo": "Head of the Federation of Syrian Chambers of Industry, Eng. Fares Shihabi, stressed that Aleppo Industry Chamber has decisive evidence on the involvement of the Turkish government in stealing production lines and machines from hundreds of factories in Aleppo city and smuggling them into the Turkish territories in clear breach of the international laws........................
He added that the industrials in Aleppo accuse the Turkish government of practicing terrorism, criminality and robbery in a deliberate and methodical way against the Syrian industry and they call for forming a neutral international committee to investigate the reality of robbing factories in Aleppo................"
"Free Syria Army Robbed Over 1,000 Aleppo Factories" is title of commentary on a video published on 20-1-2013 on the website of Global Research:
We read: "Video footage from November 2012 shows men of the "Free Syrian Army" (FSA) North Storm Battalion monitoring the transfer of equipment and machinery from Aleppo to Turkey. According to the narrator from the terrorist group, he says that these are trucks and oil excavators that belong to the state of Qatar that are being returned to Qatar through Turkey after they were 'liberated from the Assad army'.
Confirmation from the Syrian Foreign Ministry and other observers have claimed that between 1,000 and 1,500 factories have been robbed of their equipment and raw material, where those have been taken to Turkey with the full knowledge of and facilitation by the Turkish government"
You cannot loot or rob a factory without solid preparations. On the contrary, 1) you should know where the factories are situated, 2) you should know what is the content (machines, installations, raw material) of these factories, 3) you should have equipment, manpower and knowledge to disassemble the machines and installation to be able to transport them and, 4) you should be informed about the geography and infrastructure of environment.
Turkey is fulfilling all these requirements for she is the home base of Syrian opposition; the Syrian National Coalition in Istanbul. Apparently, the logic seems to be: " I do something for you, in exchange you do something for me." Therefore, I give you (Syrian "opposition") accommodation and support you, but you should help me to plunder the Syrian factories! This is talking about "liberation" of Syria!
Unfortunately, if true, Turkey is not only plundering factories in Syria, but is doing much more horrific things.
On 4-5-2013 an article was published by the Syrian Arab News Agency (SANA) entitled "Turkish Authorities Involved in Stealing Body Organs of Injured Syrians"
Referring to the Lebanese News Paper ad-Diyar, SANA reports: "The Lebanese ad-Diyar newspaper revealed that the Turkish authorities are involved in trafficking the body organs of injured Syrians who reach the Turkish territories"
"The newspaper noted that the body organs of the injured people that are mostly trafficked are livers, kidneys and hearts to be given to people who are waiting for treatment in Turkey, according to confirmed information. "
"A French doctor confirmed to Ad-Diyar that stealing of human body organs of injured Syrians in Turkey has actually taken place…"
-----------------------------------------------
But, if these allegations are true, how are these horrific acts carried out? Are they carried out by the Turkish government or is Turkish government using others to do the dirty works for them? Well, again as in the case of plundering factories in Aleppo: "I do something for you and you do something for me", also here the same procedure seems to be followed. Below we will explain what we mean:
On 16-10-2012 an article was published by Global Research entitled "Syrian Terrorists Involved in Illegal Human Organ Trade"
We read in the article: "The so-called Free Syrian Army is trafficking the body organs of Syrian civilians and army soldiers after kidnapping and murdering them, media reports said.
The FSA rebels in Syria trade the body organs of the Syrian martyrs whom they abduct and kill. Then, they sell the stolen body organs to organ traffickers at expensive prices, Turkish newspaper Yurt wrote."
"The newspaper's correspondent in Syria has shed the light on heinous events and violations regarding the organ trafficking by FSA terrorists."
"Most of the Syrians abducted by the armed groups are killed, and then gunmen trade in their corpses through removing their kidneys, eyes and liver," the daily quoted a Syrian citizen as saying.
It added that the Syrian citizen underlined that "unknown persons contacted him and offered 300,000 Syrian Pounds in return for handing them the body of his brother who was martyred at the hands of terrorists"
The next question that begs for an answer is this one: Where did the Western backed Syrian terrorists and mercenaries attain the skillfulness of trafficking human body parts?
The answer is most probably: Kosovo. Why Kosovo? Well, because of the following analyses:
4-3-2012: VIDEO: Kosovo Terror Training Camps Re-Open for Syrian Rebels
4-5-2012: Syrian "Opposition" Studies Terror Tactics in Kosovo: Free Syrian Army (FSA) and Kosovo Liberation Army (KLA) Join Hands
15-5-2012: Terrorist Expertise" and the KLA: Russia Warns Against Training Syrian Rebels in Kosovo
14-7-2012: Syrian Opposition's Amazing CIA Credentials
Kosovo "Liberation Army" and Organ Trade
Russia Today reported on 26-8-2008 in an article entitled "Serbs murdered for their organs in Kosovo – new evidence": "Serbian war crime prosecutors have received new evidence that hundreds of Serbs had their internal organs removed and sold by ethnic Albanians during the Kosovo war
However now that everybody wants to close the files, new evidence has emerged of what happened in Kosovo in 1999. Reports suggest Serb prisoners of war were taken by the Kosovo Liberation Army to the Kosovo-Albanian border.
In a place called 'the yellow house' their vital organs were cut out and sold on the black market. The Serbian war crimes prosecution has through its own means obtained photographs purported to show a nearby mass grave and a report on the fate of these kidnapped Serbs"
B92 reported on 22-12-2009 in an article entitled "Vukčević, Marty on Kosovo organ trade case": "Vukčević informed Marty about the latest findings of his office in the Kosovo organ trade case, the prosecution said in a statement in Belgrade on Tuesday.
On Friday, Vukčević will meet with the families of the kidnapped and missing persons from Kosovo and Metohija, to inform them about his meeting with the CoE official, the statement added.
The prosecution last year started an investigation into allegations that ethnic Albanians, members of the so-called Kosovo Liberation Army (KLA), in 1999 kidnapped hundreds of Kosovo Serb and other non-Albanian civilians in the province.
The victims were then taken to northern Albania where their vital organs were removed to be sold in the black market"
Večernje novosti reported on 1-12-2009 in an article entitled "New details in Kosovo organ trade case": The case, known also in the media as the Yellow House, after a house in northern Albania where the victims were allegedly held before being murdered, was picked up last year by the Serbian War Crimes Prosecution.
The prosecution believes that hundreds of Kosovo Serb civilians were kidnapped by the ethnic Albanian Kosovo Liberation Army (KLA) in 1999, to be taken to neighboring Albania and murdered for their vital organs, which were later sold in the black market…."
B92 reported on 20-1-2010 in an article entitled "Marty in Kosovo over organ harvesting": "Serbia's War Crimes Prosecution is also investigating allegations that the so-called Kosovo Liberation Army (KLA), consisting of ethnic Albanians, kidnapped hundreds of Kosovo Serbs and transported them to northern Albania where their vital organs were removed"
The Guardian reported on 14-12-2010 in an article entitled "Kosovo PM is head of human organ and arms ring, Council of Europe reports": "Kosovo's prime minister is the head of a "mafia-like" Albanian group responsible for smuggling weapons, drugs and human organs through eastern Europe, according to a Council of Europe inquiry report on organised crime"
"Legal proceedings began in a Pristina district court today into a case of alleged organ trafficking discovered by police in 2008. That case – in which organs are said to have been taken from impoverished victims at a clinic known as Medicus – is said by the report to be linked to Kosovo Liberation Army (KLA) organ harvesting in 2000. It comes at a crucial period for Kosovo, which on Sunday held its first elections since declaring independence from Serbia in 2008. Thaçi claimed victory in the election and has been seeking to form a coalition with opposition parties…"
The Telegraph reported on 11-9-2012 in an article entitled "Former Kosovo rebel describes removing prisoner's heart for black market sale": Claims of organ harvesting by the former rebel Kosovo Liberation Army (KLA) during and after the conflict are being investigated by the EU-named US prosecutor John Clint Williamson and Belgrade said he was informed about this witness
Council of Europe rapporteur Dick Marty alleged in a hard-hitting 2010 report that senior KLA commanders – including current Kosovo Prime Minister Hashim Thaci – were involved in illegal organ trafficking
The report said that organs were taken from the bodies of prisoners, many of them Serbs, held by the KLA in Albania at the time. (See also here: Serbs murdered for their organs in Kosovo)
See also article in Pravda of 14-9-2012 entitled "New shocking details emerge in Kosovo human organ trafficking"
Associated Press (AP) reported on 29-4-2013 in an article entitled "Kosovo: 3 get jail time in organ trafficking case": "A court in Kosovo found two citizens guilty of human trafficking and organized crime Monday in a major trial against seven people suspected of running an international organ trafficking ring that took kidneys from poor donors lured by financial promises…."
See more on Kosovo Organ Trade: http://www.balkaninsight.com/en/balkan-transitional-justice/kosovo-organ-trafficking-news
Moral of the story: The odious colonial powers have sent their "boys" from Syria to Kosovo, not only to learn terrorist tactics to be used against the regime of Assad, but most probably also to get acquainted with trade in human organs. And if the allegations are correct that the Turkish government is involved with not only plundering factories in Aleppo, Syria, but also with human organs, than this most probably is taking place in close cooperation with the so-called "rebels" in Syria.
Unfortunately it seems that the extent of cruelty and barbarism committed by the Western backed "freedom"- death squads and terrorist in Syria is unparalleled. Time World reported on 12-5-2013 in an article entitled "Savage Online Videos Fuel Syria's Descent Into Madness": …… But the next frame makes it clear why this video, smuggled out of the city of Homs and into Lebanon with a rebel fighter, and obtained by TIME in April, is particularly shocking. In the video a man who is believed to be a rebel commander named Khalid al-Hamad, who goes by the nom de guerre Abu Sakkar, bends over the government soldier, knife in hand. With his right hand he moves what appears to be the dead man's heart onto a flat piece of wood or metal lying across the body. With his left hand he pulls what appears to be a lung across the open cavity in the man's chest. According to two of Abu Sakkar's fellow rebels, who said they were present at the scene, Abu Sakkar had cut the organs out of the man's body. The man believed to be Abu Sakkar then works his knife through the flesh of the dead man's torso before he stands to face the camera, holding an organ in each hand. "I swear we will eat from your hearts and livers, you dogs of Bashar," he says, referring to supporters of Syrian President Bashar Assad. Off camera, a small crowd can be heard calling out "Allahu akbar" — God is great. Then the man raises one of the bloodied organs to his lips and starts to tear off a chunk with his teeth….."
Israel National News Reported on 14-5-2013 in an article entitled "Syrian Rebels in Cannibalistic Shock Video. Rebel eats heart of dead rival, as voices in Turkey criticize continued aid to rebel forces": "Rebels fighting against Syrian strongman Bashar Assad's forces have published a shock video showing one of them eating the heart of a dead rival…"
PressTv reported on 15-5-2013 in an article entitled "Cannibal terrorist says video from Syria is real": "In an interview with Time magazine conducted via Skype on Tuesday, Khalid al Hamad, known by his nom de guerre Abu Sakkar, confirmed that the video is real and that he did indeed take a bite of the soldier's lung.
The video shows him cutting out some of the soldier's organs and biting into one. At the time of the filming, al Hamad believed that he was eating the man's liver, but A surgeon who saw the video said the organ in question was actually a lung"
Few questions to our beloved reader:
- If indeed, it is true that Turkey has been involved, with the help of Syrian terrorists, in plundering factories in Aleppo and transporting to Turkey, what can you expect from such government?
- When such government has no problem with ransacking of other countries, would they have problem with abduction of two "unclean" bishops and killing the driver?
3. When the militia loyal to regime of Assad would have been active in Allepo or surrounding areas, they most probably would have had tried to prevent plundering of factories. The whole region of Aleppo seems to be dominated by opponents of Assad and that is the reason they managed to ransack the factories unhindered.
However, there is more going on. Below we will provide our beloved Aramean and non-Aramean reader with more details.
2.1. A remarkable article: Ahmed Moaz Al-Khatib claims: Western secret service have done
In our analysis of 15-4-2013 we elaborated on the resignation of Mr. Ahmed Moaz Al-Khatib, the chairman of Syrian National Opposition. The reason behind his resignation was probably that he finally became aware of the evil and odious plans of colonial powers with Syria.

Al Ahram reported on 25-3-2013 in an article entitled "Why did Khatib really resign as leader of Syria's National Coalition": "Moaz Al-Khatib was chosen as head of the coalition because many thought he could be controlled, but he quickly began to operate independently which upset many…….."
The abominable colonial powers obviously wanted to use Al Khatib as their messenger boy, something he apparently refused to comply with. Therefore, he had to go.
Russia Today of 24-3-2013 reported on the resignation of Al Khatib in which he says: "I had promised the great Syrian people and promised God that I would resign if matters reached some red lines. Now I am fulfilling my promise"
On 22-4-2013 Mr. George Sabra was elected as successor of Moaz Al Khatib. After his election he promised to work for the release of the two Aramean bishops.
Global Post of 23-4-2013 reported in an article entitled "Syria opposition chief 'seeking release of bishops'": Interim opposition chief George Sabra was Tuesday working to secure the release of two bishops kidnapped in a north Syria village, a Greek official said, as a fresh wave of violence hit the country…"
Empty talk of course, because Sabra too is a puppet of the colonial powers.
On 24-4-2013 an article was published by PressTV entitled "Western spies in Syria behind abduction of archbishops: Moaz al-Khatib"
We read amongst others: The former leader of Syria's opposition National Coalition Ahmed Moaz al-Khatib says Western spies currently active inside Syria were behind the recent abduction of two archbishops in Aleppo.
According to Khatib, tens of Western spy agencies are currently active in Syria, reports show
The reports also added that the former head of the opposition has claimed that it was also possible for a foreign intelligence agency to be working in Syria to instigate more tension in the country
He said that those responsible for the abduction of the archbishops are trying to add to the unrest in Syria……………
------------------------------------------
Mr. Ahmed Moaz Al- Khatib might be correct in his assertions. As former leader of opposition he most probably has access to many information sources and based on these sources he might be able to evaluate the situation correctly. If indeed, Mr. Al Khatib is right in his analysis regarding this criminal act and that the perpetrators are agents of Western secret services, it explains for a important part, the following points:
1) The reason that they are so quite in the most Western countries about the matter.
2) The reason why some in the West seem to have been said "the bishops are safe."
3) That the story of president Gul is not misunderstanding, but that Mr. Gul indeed knows much more about the abduction.
If Western secret services are involved in this criminal act, they definitely have done it in close cooperation with the Turkish secret service.
According to the successor of Mr. Moaz Al –Khatib, Mr. George Sabra- the self-styled "Christian", the both bishops are in good health as reported on 8-5-2013 by Daily Star in an article entitled "Abducted Syrian bishops in good health, held by rebels": Acting President of the Syrian National Council George Sabra said Wednesday that the two Greek Orthodox bishops kidnapped in Syria are being held in a small village north west of Aleppo by a rebel group.
In a telephone conversation with Kataeb Party leader Amin Gemayel, Sabra said that Aleppo's Greek Orthodox Archbishop Boulos Yazigi and Syriac Orthodox Archbishop Yohanna Ibrahim were both in good health and still in the custody of a small group of rebels in the Syrian town of Bshaqtin.
"The bishops are in good health and are being held by a small group in a town called Bshaqtin, 20 kilometers north west of Aleppo," Sabra told Gemayel who was in a meeting with Syriac Orthodox bishops at the Kataeb Party's headquarters in Saifi, according to Gemayel's office…"
How does Mr. Sabra know that the both bishops are in good health? Did he spoke with them? If Mr. Sabra knows that they "are being held by a small group in a town called Bshaqtin, 20 kilometers north west of Aleppo"; why then he is not able to talk with this "small group" and release the bishops? Who are exactly this "small group?" Perhaps special units of Western secret services as in case of Iraq? What kind of script did Mr. Sabra receive from his Turkish and Western colonial masters?
3. The intense involvement of Turkey in Syria
Even if the assertions of Mr. Ahmed Moaz Al- Khatib regarding involvement of Western secret services in the criminal act of kidnapping of the Aramean bishops would be incorrect, still, the terrorist groups cannot do anything without permission of the Turks and their Western allies in the criminal and odious demonic cooperation to devastate Syria. Here below we will explain why.
Nidal Hmadeh reported on 8-3-2013 in a article entitled "Al-Manar Website Uncovers an Internal Document for Al-Nusra Front: How Turkey Recruits Fighters in Syria": The document is a ten page application form distributed by the Turkish authorities on Syrians inside Syria. Based on the information mentioned in the application, the individual is enlisted either in the ranks of a certain phalanx that fights in Syria, as an intelligence agent, or as a recruit for the intelligence agents that work inside Syria.
The source of this document is an injured Syrian who was in the ranks of the militants. His family took him to Europe for treatment after he was injured in his spinal cord, so he passed on this document to us to publish it and comment on its articles and points
The injured Syrian said the Turkish authorities established a "Center for Civil Society and Democracy in Syria" as a civil facade to Al-Nusra Front and the militants its trains and arms in its lands before it sends them to Syria
Turkey also relies on these forms to specify the individuals that it could take to military training camps in Turkey, as well as those who could form military and security cells inside Syria
He added that "all the supervisors of this center are from the Syrian Muslim Brotherhood and they personally lead Al-Nusra Front."
The injured Syrian further tells us that one person could fill more than one form, as he could fill forms for people he knows, or he could work on finding people that would fill their personal forms.
Moreover, Turkey presents for each individual, who could find 60 people to fill forms in Syria, a large sum of money.
The injured Syrian said that this form was put by the Turks and they are the ones who supervise the training program, while Qatar and Saudi Arabia fund the civil society center, in addition to cash money that come from France, America, and Germany
---------------------------------------
The story of Nidal Hmadeh is actually affirming the analysis of professor Michel Chossudovsky and many others regarding intense involvement of Turkey in recruitment of terrorists and dead squads in Syria.
Tony Cartalluci wrote on 29-6-2012 in an article entitled "NATO Member Turkey Harboring Terrorist Army. Crime against world peace ignored by feckless United Nations": "According to the New York Times, "a small number of C.I.A. officers are operating secretly in southern Turkey, helping allies decide which Syrian opposition fighters across the border will receive arms to fight the Syrian government, according to American officials and Arab intelligence officers.".......................................
Turkey is clearly harboring a terrorist front within its borders and facilitating their violent-subversive actives within Syrian borders. While the US and NATO hypocritically use a similar narrative to justify cross-border raids into Pakistan, it is attempting to tie Syria's hands from even operating up to and along its own border to stem very real, admitted terrorist networks maintained by NATO and their Gulf State partners.............
Devon DB wrote on 24-5-2012 in an article entitled "Syria: The Road to War Continues": ....It has been revealed in recent days that the US and Turkey are in fact aiding the Syrian rebels and that the push for intervention is growing....... Rebel sources in Hatay told me last night that not only is Turkey supplying light arms to select battalion commanders, it is also training Syrians in Istanbul. Men from the unit I was embedded with were vetted and called up by Turkish intelligence in the last few days and large consignments of AK-47s are being delivered by the Turkish military to the Syrian-Turkish border………….
Martin Chulov reported on 30-7-2012 in an article entitled "Syria: foreign jihadists could join battle for Aleppo": "Scores of foreign jihadists have crossed into Syria from Turkey in the past two weeks, some of them telling Syrians that they are planning to travel to Aleppo to join a decisive battle against regime troops...................................Syrian residents and a Turkish smuggler interviewed by the Guardian say many of the men have come from the Caucasus, while others had arrived from Pakistan, Bangladesh and Gulf Arab states….."
Finian Cunningham wrote on 7-9-2012 in an article entitled "Turkey Supports Terrorism: Erdogan scores own-goal on Syria crisis": "Ironically, at the same time that Erdogan was denouncing Syria as a "terrorist state," some 400 members of the self-styled Free Syrian Army were gathering in Turkey's Hatay Province for a three-day summit. The agenda? How to sharpen their campaign of terror on Syria to overthrow the government in Damascus.......................
Turkey has provided the criminal war effort with land bases, logistics and surveillance, personnel training and weapons, including anti-aircraft missiles, according to recent reports........................
The so-called Free Syrian Army, which is now reportedly re-branding itself as the Syrian National Army in part to distance itself from these atrocities, may include nationals and defectors, such as the former general Mohammed al-Haj Ali and colonel Riad al-Asaad, but the ranks are brimming with mercenaries from several countries affiliated with Western and Saudi-backed Sunni extremists, such as the Libyan Islamic Fighting Group and the mercurial al-Qaeda........................................
This means that Turkey and its NATO allies, the US, Britain, France and Germany, along with the Saudi, Qatari and Israeli arms suppliers, are co-conspirators in an unprovoked, criminal war of aggression against a sovereign state. In short, state terrorism......."
Please find here much more analysis on the intensive involvement of Turkey in destabilization of Syria: http://www.aramnahrin.org/English/Arameans_Of_Syria.htm
Not only the previous analysis, but also the Syrian government has accused Turkey of its involvement in recruitment of terrorists against the regime of Assad.
Jerusalem Post reported on 27-2-2013 in an article entitled "Syria claims Turkey enabling al-Qaida": "Syria submitted a letter of complaint last week to the UN Secretary-General Ban Ki-moon alleging that Turkey is enabling "Al-Qaida, as well as the Nusra Front and other terrorist organizations, to assemble, take refuge, receive funding and arms, engage in smuggling, and enter Syrian territory……..
The Syrian delegation, representing the regime of President Bashar Assad, claims those same organizations are responsible for the killing of civilians and the destruction of public and private property in Syrian lands……
"I hate to side with the Syrian government, but in this case the accusation is correct," said Michael Rubin, a former Pentagon official now with the American Enterprise Institute in Washington.
"By any objective measure, Turkey has become a state-sponsor of terrorism for its support not only of Hamas, but also of al-Qaida affiliates and the Nusra Front," he said
---------------------------------------------------------
There are also fanatic Turkish Islamists active in Syria to destabilize the country and turn it in a fanatical Muslim Brotherhood one, as it is now happening in Egypt.
This photo of a Turk (Metin Ekinci) killed in Syria can be found on the website of "Mediawerkgroep Syrie" published in an article on 28-8-2012 entitled "Syrische nationale leger doodt rebellen uit Irak, Turkije, Libië, Egypte en Tunesië" (= Syrian national army killed rebels from Iraq, Turkey, Libya, Egypt and Tunisia)

The caption under the photo reads: The such-and-such Turkish terrorist killed by the Syrian national army.
On the website of Mediawerkgroep Syrie is also a video- message published on 9-1-2013 in which a fanatic Turkish Islamist is addressing a group of people in Syria in Arabic. The Mediawerkgroep Syria has translated the message and it reads : "……. He is openly calling to slaughter the non-Muslims in Syria, including Alawites and Shias, who are considered by these Sunni extremists and Wahabits as non-Muslims. He mentions that in particular Christians and Jews should be killed….."
Summarizing, we can put it as follows:
Based on the abovementioned and many other analyses, we can assume that Turkey is playing very important role in destabilization of Syria. Without the help of Turkish government, the Western colonial powers would have been in big trouble to realize their unholy plan for Syria. Turkey has a large influence in Syria. It has spies, but most probably also special army units.
Therefore: No matter who the kidnappers of these two bishops might be, without permission of Turkey and the Western colonial powers, they impossible would have committed this crime.
The United States, which play decisive role in extermination of Syria, condemned through Ambassador Maura Connelly to Lebanon the kidnapping of the bishops and demanded their release as reported by Daily Star of 30-4-2013 in an article entitled "U.S. renews call for release of Syrian bishops": "U.S. Ambassador to Lebanon Maura Connelly renewed Tuesday her government's call for the release of the two bishops recently kidnapped by gunmen in Syria, following a meeting with Greek Orthodox Patriarch of Antioch and All the East John X.
"Connelly condemned in the strongest terms the kidnapping of the patriarch's brother, Archbishop Metropolitan Paul [Yazigi] of Aleppo, and Syriac Orthodox Archbishop ... Yohanna Ibrahim of Aleppo, and repeats the United States' call for their immediate release," a U.S. Embassy statement said…….."
The "concerns" and "demands" to release both Aramean bishops are nothing but outright fake tears, the same crocodile tears as with the exterminations of the Arameans of Iraq. Apparently, it escaped the attention of ambassador Connely that United States along with London and Paris form the nerve centre of the international Illuminati aiming at the extermination of Christianity.
The first signs are already becoming visible. The American Army considers Christians in the US as danger to the country. Below, we will mention two examples:
1) World Net Daily of 5-4-2013 reported in an article entitled "Military warned 'evangelicals' No. 1 threat": "Soldiers in the U.S. military have been told in a training briefing that evangelical Christians are the No. 1 extremist threat to America – ahead of groups like the Muslim Brotherhood, KKK, Nation of Islam, al-Qaida, Hamas and others…….."
2) The US minister of Defense recently appointed a hater of Christians as adviser for religious tolerance policy. Breitbart reported on 28-4-2013 in an article entitled "Pentagon Taps Anti-Christian Extremist for Religious Tolerance Policy": "Today, we face incredibly well-funded gangs of fundamentalist Christian monsters who terrorize their fellow Americans by forcing their weaponized and twisted version of Christianity upon their helpless subordinates in our nation's armed forces. Those words were recently written by Mikey Weinstein, founder of the Military Religious Freedom Foundation (MRFF), in a column he wrote for the Huffington Post… "
"Weinstein decries what he calls the "virulent religious oppression" perpetrated by conservative Christians, whom he refers to as "monstrosities" and "pitiable unconstitutional carpetbaggers," comparing them to "bigots" in the Deep South during the civil rights era……………"
A country with such powerful military apparatus which is appointing a Christian- hater as "adviser" is definitely not a country you could count on to exert any effort in releasing the two Aramean bishops.
But there is more to tell about the "concerns" of US on Syria. ABC News of 9-5-2013 reported in an article entitled "US Ambassador Makes Secret Crossing Into Syria to Briefly Meet With Rebels": " U.S. Ambassador to Syria Robert Ford briefly crossed into northern Syria on Thursday to meet with Syrian opposition leaders……………..
A U.S. official confirmed Ford's secret visit, which occurred along the Turkey-Syria border. He briefly crossed into Syria to meet with opposition leaders before returning to Turkey. Ford did not go deep into Syria, according to the official………"
Who is exactly the US ambassador to Syria, Mr. R. Ford? On 30-9-2011 a pertinent article published on the website of Global Research from the hand of Professor Michel Chossudovsky entitled "Who is US Ambassador to Syria Robert S. Ford? The Covert Role of the US Embassy in Supporting an Armed Insurrection" reads:
"Ambassador Robert S. Ford is no ordinary diplomat. He was U.S. representative in January 2004 to the Shiite city of Najaf in Iraq. Najaf was the stronghold of the Mahdi army. …….Since his arrival in Damascus in late January 2011, Ambassador Robert S. Ford played a central role in laying the groundwork for the development of an armed insurgency directed against as the government of Bashar al Assad….. The reinstatement of a US ambassador in Damascus, but more specifically the choice of Robert S. Ford as US ambassador, bears a direct relationship to the onset of the protest movement in mid-March against the government of Bashar al Assad. ……..
Robert S. Ford was the man for the job. As "Number Two" at the US embassy in Baghdad (2004-2005) under the helm of Ambassador John D. Negroponte, he played a key role in implementing the Pentagon's "Iraq Salvador Option". The latter consisted in supporting Iraqi death squadrons and paramilitary forces modelled on the experience of Central America…….."
What was the goal of his border crossing to the north of Syria? To see with his own eyes how his "boys" are ravaging and destroying Syria following Iraqi model? To see how the Aramean churches, homes and properties being destroyed and how the people killed and expelled out of their homes and villages?
Couldn't Mr. Ford demand the "terrorist group" to release the two Aramean bishops kidnapped on 22-4-2013 in Aleppo? Or are these kidnappers not "terrorists" at all, but special units of Western secret services?
4. What does Turkey want to achieve by this?
If it is true that Turkey and the Western allies are responsible for the kidnapping of these bishops by the terrorists they have recruited in Syria, the following questions needs to be answered: What do they want achieve by this?
1) Turkey is dreaming of rise again of the former Ottoman Empire in modern form as "Caliphate Middle-East." They want to achieve this in cooperation with Saudi- Arabia and Egypt. The first signs already become visible. The Israeli Ynetnews reported on 29-4-2013 in an article entitled "Ahmadinejad: Syrian rebels' victory to trigger regional unrest": Egypt has proposed that Turkey, Egypt and bitter regional rivals Saudi Arabia and Iran form the quartet….
What Turkey possibly wants to make clear to the both bishops, their churches and other Christians is that they now are boss in their "backyard" Aleppo and that Christians better cancel their support to Bashar Assad and from now on listen to Turkey.
But of course the Turks will hold out the prospect of many (empty) promises (as they now successfully are doing with SUA/WCA, ESU etc..) to make sure the both gentlemen stop their support behind Bashar Assad. These two bishops have high authority within both Aramean churches within and outside Syria. Their decisions most probably will be respected by their churches. Perhaps that their decisions will be taken in close cooperation with their churches.
The Turkish government of Erdogan is working very hard to win the hearts of the majority of the Kurds, unprecedented steps has been taken towards PKK for reconciliation. On their turn, the PKK has withdrawn its fighters from Turkey.
The contribution of Kurds to the forming of new Ottoman Empire seems also to be noticed by Osman Ocalan, the former leader of PKK and the brother of Abdullah Ocalan. In our analysis of 24-9-2011 entitled "Liberation" of Iraq: Extermination of Arameans of Iraq. "Liberation" of Syria…..?????......" we elaborated on an interview with Osman Ocalan by PressTV that was broadcasted on 3-9-2011. Ocalan says: "In 1500 AD, when Iran and Turkey were powerful nations in the Middle-East region, Turkey formed an alliance with the Kurds and established the Ottoman Empire. And know it wants to do the same, but in a new modern way. To that effect, it wants to turn all the Kurds from PKK to PJAK, to those in Iraq against Iran. Just as the Ottoman Empire that was formed under the back of Kurdish support, the Turkish government today is planning to create a new Empire. And that is why it is also prepared to interfere in the affairs of Syria.
What Turkey intends to do is taking its first step by meddling with Syria and basically subjugated. To that end it's been supporting numerous opposition meetings in Istanbul. Ankara wants to occupy Syria and help to bring a puppet government to power"
But of course, the government of Erdogan is doing this in close cooperation and under guidance of international Illuminati, with its core centre: Washington, Paris and London. The "Caliphate Middle-East" is nation number 7 to be formed according to the Illuminate plan for the world to be divided in 10 nations.
What the government of Erdogan want is that the Aramean and other Christians join the bandwagon so that he can present himself as "moderate", "tolerant" and "multiformist."
2) If indeed the both bishops and their churches agree with this dangerous and extremely unholy monstrous covenant, most likely the following scenario will be played out, namely: the Turks will exploit the matter in the media and present themselves as "defenders" of Christians in Syria by releasing both bishops. They possibly will come out with stories like: "The special units of Turkish army have freed the both bishops from the hands of terrorists etc.. etc…" An unprecedented hullabaloo and a great fanfare will be made about the "liberation of both bishops."
This will cause worldwide unparalleled "euphoria" within the indigenous Arameans and other Christians in the Middle-East, Diaspora and worldwide. As a result of this, the majority of Christians in the Middle-East will demonstrate enormous "respect" and "love" towards the Turkish government of Erdogan.
Thereupon, for the Turkish government will be much easier to convince the Christians of Middle-East and to win their support for Caliphate Middle-East. They will say, "Please don't worry, we are the boss, nothing will happen to you. We have freed your bishops, didn't we? "
If the churches agree with the unholy covenant, they of course will get "advice" how to sell the dangerous agreement to their followers. They most likely will come up with stories like, "We want to make sure that our people will live in peace, or, we decided this with all churches etc.. etc.." Anyhow, they will be well-advised how to mislead/convince their followers. And most probably SuroyoSat, SuroyoTv and other channels will cooperate in this whole process.
3) If the bishops refuse to agree with this unholy and dangerous covenant, they most probably will be ritualistically slaughtered and their mutilated bodies will be dumped along a road or on a (public) place visible to everyone. And this will cause unprecedented shock within the Aramean indigenous nation of Middle-East and worldwide.
4) There might be however another reason for the kidnapping of these bishops. There are rumors that bishop Yohanna Ibrahim had very good contacts with the opponents of Bashar Assad and he and bishop Yazigi were involved in a kind of reconciliation process between government of Syria and opposition. If this turned out to be true, than we can 100% be sure that indeed they are kidnapped by the special units of Western colonial powers. Stay assured that they will go to great length to make sure that there will be no any reconciliation between Syrian government and rebels, including killing and abductions.
5. Charm offensive of Turkey……
The Turks are unprecedented cunning masters in politics, they are the descendants of the Ottomans. They understand very well how they can touch in a most advanced way the right and sensitive chord of their opponents. Since the government of Erdogan took office, Turkey started to appease the minorities to obtain their trust. There is unprecedented reconciliation towards the Kurds with Islam as powerful glue. They reason as, "We all are Islamic brothers, why should we kill one another?"
The Kurds have received a satellite channel from Erdogan, TRT6, where 24 hours programs in Kurdish are broadcasted. There are also various other Kurdish channels that are broadcasted via Turksat, such as Dunya TV, Dijle TV and Deng TV.
Also towards the Arameans and Armenians, the government of Erdogan is achieving considerable results. They speak unprecedented in "full of praise", "love", "respect" and "dignity" towards Arameans.
They seem with their charm offensive to have caused miracles with Syriac Universal Alliance (SUA), (paper tiger name: World Council Arameans (WCA)), Mr. Johny Messo and the affiliated organizations.
They have impressed Mr. Messo even so much with their "honey sweet talks" that he praised them into skies during SUA/WCA vacation 2011. Literally he said during his speech he gave in Midyat in 2011 this: "…Honestly, as I told before, since one-and-half or two years, we notice that the new generation Turks, their representatives at the European Parliament, at UN, they really are very much educated, they are open, and truly, they have a great love and respect for our people and in this way we want to develop ourselves……."
This sounds to us as an unbelievable amateurism and blindness!
What we can understand from this speech is that Mr. Messo, SUA/WCA, the affiliate organizations and the rest of his "supporters" are still "drinking milk" and totally do not understand how it works in the international arena of politics. He does not understand that these so-called "educated" and " openminded" Turkish diplomats and representatives who demonstrate "love and respect towards our people" receive special course in communications and psychology. Therefore, during their talks with people like Mr. Messo, Daniel Gabriel, Daniel Demir and the rest of the "leaders" affiliated with SUA/WCA, they are able to touch their right chord causing them into ecstasies and throwing their hat in the air.
Welcome in the world of sly and cunning diplomacy where Mr. Messo and the rest of SUA/WCA are absolute no match for.
The Turks have been probably happy and proud of themselves with the results they have achieved with their communication techniques as "Our Syrian brothers, you are part of this country, you have a very rich history, we make no distinction between religions, everyone is equal in Turkey, etc.. etc. " causing SUA/WCA to praise them into skies.
For example, Mr. Messo says: "…. and at the same time I want to underscore my esteem for the government of this country Turkey, that is the land of our forefathers and special the respected governor, the honorable Turhan Ayvaz who yesterday allowed us to visit him and the honorable the county-superior, the respected Fatih Akkaya with whom tomorrow we will have a meeting and the honorable Seymus Nasiroglu, the major of Midyat. To all three of them, we offer our gratefulness who also have demonstrated their respect and their love for our Syrian people worldwide and those present here………"
During the visits of Mr. Messo and his allies to the Turkish officials, they shot photos, send it to Hazni Paulus of SuryoyoSat to compose a story around the meeting. Thereupon, during the newscast Lea Paulus elaborates in detail over "heroic deeds" of Mr. Messo, SUA/WCA and affiliate organization thereby of course giving extra attention to the photo-show where of course Mr. Messo is taking prominent place, to "inform" the blind and ignorant people.
On their return, Suleyman Akguc makes a program about their vacation and again photo- show is carried out, and repeated, repeated and again repeated. In doing so, they build up a cult around SUA/WCA and the person of Mr. Messo and sometimes it can go very far in the negative sense. During such a "cult ceremony" on SuryoyoSat, a while back, a caller compared Mr. Messo with the star of Bethlehem that showed the way to the kings from the east to the born child Jesus in Bethlehem. This starts to take the form of idol worship.
An half year or a year later they want to wheedle out of some money from the people and show again the same photos to cause the poor and unsuspecting people give them money. We believe this is nothing but a form of deceit and sorcery!
Davutoglu with amongst others Mr. Messo

On Sunday 4-12-2011, the Turkish minister of foreign affairs, Ahmed Davutoglu visited the Syrian Orthodox church in Koln. Also present during this visit were Mr. Johny Messo, Daniel Gabriel, Daniel Demir, Philip Hanna, Adnan Mermertas of SuryoyoSat and others.

During the visit Mr. Messo gave a talk and told amongst others: "….…I express my deep gratitude, we feel deeply honored, your Excellency, I don't know how I should address you, your Excellency or professor Davutoglu…. please standing ovation for his Excellency for having honored us here and appreciating our people here in Koln and in Germany. Thank you very much your Excellency.
"Your Excellency, you have honored us and showed appreciation for our culture, for our language, for our people here in Germany, and we hope to continue our dialog, our constructive dialog as they call it, more often in the future. And we are also very grateful for all your other colleagues, first of all the current ambassador of Turkey to Germany and next ambassador of Turkey to Germany, who are both present here as well as their colleague the general consul of Turkey in Koln. We are very grateful for the honor you have showed to our people here, outside Turkey, and you told today that you still considers us as part of Turkey, as citizens of the Turkish nation. And I thank all of you for being here……"
Well, what to say about this? Grateful … for … what? That the Aramean indigenous nation is not recognized in Turkey? Grateful for….. lip service and nice talks of Turks?...... Grateful for … ridiculous lawsuits against St. Gabriel monastery?..... Grateful for…. Complete extermination of Aramean presence in Aramean centre's like Urfa and elsewhere in Turkey…..?
Constructive dialog… for… what? Honey- sweat- talks and nice words through which Mr. Messo praised them into skies?.........
Beloved Aramean reader, we leave the matter to you…. It is very, very sad…. Totally not being aware of the consequences…..
Who is exactly professor Dr. Ahmed Davutoglu? Davutoglu is a professor in Political Sciences and International Relations; he is a high caliber politician. We believe that SUA/WCA, including Mr. Messo, Daniel Gabriel, Daniel Demir, Philip Hanna and others are absolutely no match for. Compared to him, they still drink milk.
We believe that Turks have counted themselves lucky and most probably have laughed and enjoyed of satisfaction. Something like: Are these pitiful individuals representative of a people?
In this way, the Turks are being promoted to the Aramean people without doing anything for in return, not minimum, nothing, only empty talks. They do not have to recognize our people, solve the unnecessary problem they have created around St. Gabriel monastery and will continue with their honey- sweat- talks to keep the people quiet. And that is working very well! They should be grateful to SUA/WCA and SuryoyoSat for the best possible positive light they have been shown to our people.
5.1. Also the apostate Arameans who call themselves "Assyrians"…..
With their charm offensive the Turks not only managed to win the hearts of SUA/WCA and SuryoyoSat, but also the hearts of SuryoyoTV, ESU and the rest of the apostate Arameans who call themselves "Assyrians."
When the Assyrian Democratic Organization (ADO), which have been involved with terrorism and recruitment, made a unholy marriage with the Muslim Brotherhood to topple the regime of Bashar Assad, ESU (European Syriac Union) and consequently also SuroyoTv started also to join. ESU and SuroyoTv originate from GHB (Gabo D'Hirutho D'Beth Nahrin), that is the sister party of PKK established by ADO in 1993. Originally, all these organizations come from ADO.
Comment: The anti-Aramean colonial genocidal Illuminati product "Assyrians" is using regularly in the media the term "Syriac" to present themselves in order to hide their real intentions. In their perception, the word "Syriac" is the same as "Assyrian." They are advanced sneaky masters in deceit, creating chaos and confusion. See more about this:
The primitive, superseded, yet very dangerous ADO ideology unmasked: Jesus Christ the Assyrian?
Assyria and Syria: Synonyms? Justification of a lie-identity on a foundation of sand
Therefore please be aware that by the word "Syriac", they mean "Assyrian", because the word "Assyrian" has been besmirched with terrorism.
They repeat over and over again their games of Iraq with the usual slogans like "we want democracy", "Assad is a dictator", "we want equal rights for everyone" etc.. etc.. Their spiritual fornication with Bush and Blair resulted in the downfall of our people in Iraq and in case of Syria their spiritual fornication with Muslim Brotherhood, Turkey, US and the rest will result in the extermination of our people in Syria.
As we saw previously, the Turks have impressed Mr. Messo and his SUA/WCA very much. However, with their charm campaign they seem to have gained much more success with the anti-Aramean colonial spiritual genocidal product "Assyrians." Below we will present to you few examples. Another messenger boy of the colonial powers and Turks is Mr. George Sabra who has been elected as chairman of Syrian National Coalition.
1. On 11-9-2012 Hurriyet reported in an article entitled "Christian group 'will be' OK with Brotherhood": "A recently established council bringing together Syria's Christian minority groups in Syria has no fear of a possible Muslim Brotherhood rule in the country, according to a prominent member…"
Comment:
* Beloved reader, please take the word "Christian" with a big grain of salt, it means nothing. There were also some so-called "Christians" in Egypt who had no problem to work with Muslim Brotherhood in Egypt. Now this so-called "Christians" understand very well what it means to be working with Muslim Brotherhood, that is to say: once bitten, twice shy.
* Our question to this "prominent Christian" leader who "has no fear for a possible Muslim Brotherhood rule in the country" is this one: How much money do you receive monthly from Saudi- Arabia, Golf States and eventually other interested parties to make this extremely dangerous statement?
"We want to live as equal citizens and with equal rights all over the Middle East, especially in Syria," Bassam Ishak, leader of the Damascus-based Liberal Party, told the Hürriyet Daily News on behalf of the council after announcing the establishment of the "Syrian Syriac National Council" on Sept………..
Exact repetitions of the empty and foolish talks of "Assyrians" back then on the "liberation" of Iraq. After toppling the government of Bashar Assad, Mr. Bassam Ishak and his likes can forget about his so-called "rights."
This people seem completely to be hypnotized, are living in fool's paradise and totally do not understand what they are talking about. Unfortunately, this is spiritual illness where the majority of the apostate Arameans who call themselves "Assyrians" are suffering under. How can it be that Mr. Ishak is demonstrating a certain "love" for the Turks? Did perhaps the recent establishment of the "Syrian Syriac National Council" council take place under supervision of Turkey as the establishment of GHB back then took place under guidance of PKK?
The kidnapping of the two Aramean bishops on 22-4-2013 is a foretaste of what is waiting on Mr. Ishak and the rest of the blind fools. They will be faced with people who enjoy eating human body parts.
"Over 30 political parties, non-governmental organizations, and women's organizations, including the European Syriac Union, the Syriac American Association and the Syriac Movement have joined together to form the council"
O no! How is this possible? Did the love of European Syriac Union with the Kurds achieved nothing and now they want to start a new adventure with Turkey and Muslim Brotherhood? What an unbelievable blind people we have, that they are tolerating such individuals in their midst.
"The council's headquarters will be in Damascus, while another office is planned to be opened in Ankara."
But of course! Ankara wants to control everything! Thus, perhaps the "Syrian Syriac National Council" was established under watchful eyes and on "advice" of Ankara? This is really unbelievable how the love has become so strong and solid between the anti-Aramean genocidal colonial product "Assyrians" and Turkish government of Erdogan. This is "great news", all the bishops and priests should preach on Sunday in the churches about this exceptional "love."
"Ishak, who is also a member of the Syrian National Council (SNC), said the council should not be seen as supporting one side in the Syrian conflict"
It is by now clear who the masters of Mr. Ishak are, therefore he should not try to portray himself as someone who is trying to do good things there.
"The [Bashar] al-Assad regime is oppressive," Ishak said. "We have no hesitation about the Muslim Brotherhood's rule over the region; we are ready to support them. Along with this, we don't want our council to be understood as a supporter of an opponent or a sided organization.."
We already made some remarks on the love of Mr. Ishak for the Muslim Brotherhood. As Human Rights Organization we consider Mr. Ishak and the rest of the "heroes" of "Assyria" with him responsible for the abduction of the Aramean bishops on 22-4-2013 in Aleppo. What should happen, to our view, is that Mr. Ishak and his friends with him should be put in jail where they belong. When the Muslim Brotherhood rule over Syria, Mr. Ishak and all other fools will sing another tune!
Back then in 2003 they indeed committed spiritual fornication with Bush and Blair. They asked them to please come to Iraq to "liberate them from ruthless dictator Saddam Hussein." And now Mr. Ishak is repeating the same mantra and want Muslim Brotherhood to "liberate them" from this "ruthless" dictator Bashar Assad.
As Human Rights/Cultural Organization, we are very much concerned about the dangerous activities of people like Mr. Ishak and others with him. We consider the fanatic Islamists not as the really enemies of our people, but individuals like Ishak and many others with him who commit spiritual fornication with these fanatical forces. We already asked this question and repeat it again: how much money does Mr. Ishak receives to express his love for Muslim Brotherhood to come and "liberate" him from this "ruthless dictator Bashar Assad?"
Beloved reader, we again repeat: the word "Christian", you should take with a big grain of salt.
2. On 9-10-2012 Hurriyet reported in an article entitled "Syriacs join opposition to topple al-Assad government": "A group of Syrian Syriacs have thrown their support behind the struggle against Syrian President Bashar al-Assad by forming an agreement with the leading representatives of the Syrian opposition, the Syrian National Council (SNC). In the agreement a democratic Syria is demanded, in which all peoples would have equal rights and could alternately come into power after the al-Assad regime falls"
"Democratic Syria after Assad?" Let them go to Libya to understand the meaning of "democracy." Instead of democracy, they will discover increased fanaticism, daily bloodbaths, chaos and anarchy. This blind and foolish people don't understand it, do they? They are in dire need of intensive psychiatric treatment. They commit spiritual fornication with Muslim Brotherhood and want to talk about "equal rights" and "Democracy?" They live in the fantasy world they have created! However this has been always the world of the anti-Aramean colonial genocidal spiritual slavery product "Assyrians." Nothing new under the sun!
All this together seems so unreal and illogic that you cannot escape the thought that they have been brainwashed and maneuvered in this situation by their colonial masters and Turkey.
"Representatives of the Damascus-based Syriac National Council and the Brussels-based European Syriac Union said a part of the Syriac community stood with opponents against the al-Assad regime according to the agreement they had made with opposition groups like the SNC"
About which "part of the Syriac community" that is now joining the ranks of the opponents of Bashar Al-Assad are we talking? Well, as usual, we are dealing probably with the following group of people:
1) The Anti-Aramean genocidal colonial spiritual slavery product "Assyrians" who have made an unholy covenant with the Muslim Brotherhood as they previously have done with PKK.
2) Individuals who have problems at home and want join somewhere with someone or something.
3) Individuals having huge psychiatric problems.
4) Individuals/ groups who have been hypnotized by the odious colonial Illuminati powers to commit this spiritual fornication as they previously did in Iraq and with the PKK.
4) Individuals who receive huge amount of money, probably from Saudi- Arabia or Gulf States.
"Bassam-Said Ishak, the Syriac National Council head, and the European Syriac Union's Turkey representative Tuma Çelik, both prominent figures supporting the opponents in Syria, spoke to the Hürriyet Daily News about the reasons for their allying with opponents to the Syrian regime. "As all the people of Syria, including Christians, Muslims, Sunnis, Kurds and Alevis, we are carrying out a mutual fight for the fall of al-Assad's dictatorship and for the acquisition of freedom and equal rights. The opposition movement is regarded as a Muslim-Sunni movement, which is a great mistake," Ishak said"
Well, well, well! Please have a careful look here beloved Aramean and non-Aramean reader! Due to advanced communication and "honey"- diplomacy of Erdogan government, the love between them and the apostate Arameans who call themselves "Assyrians" has increased to such huge levels that Mr. Tuma Celik is a representative to Turkey on behalf of European Syriac Union. Hats off for Mr. Erdogan! You can say many things about Erdogan, but this man is very smart!
And please also pay attention to the wisdom of Mr. Ishak as he claims that it is a "great mistake" to consider the opposition as "Muslim- Sunni movement." But this is the reality Mr. Ishak, everyone understands this!
And Mr. Ishak you are "carrying out a mutual fight for the fall of al-Assad's dictatorship and for the acquisition of freedom and equal rights?" "Freedom" and "equal" rights? Like for example in Egypt and Libya?
Do you mean by "freedom and equal rights" that the task assigned to you by your masters is to make Muslim Brotherhood acceptable to the foolish and some so-called blind "Christians" as in the past some other people had tried to make PKK acceptable to some ignorant people within our nation?
"We are standing for the first time with Turkey, which supports the opponents," Çelik said. "Turkey not only regards the opponents as a Sunni movement, but also tries to represent it as an anti-Alevi one. This perception that they have tried to impose worries us, since we, as opponents, are struggling for a mutual ideal," Çelik said, criticizing Turkey's attitude
"You are standing for the first time with Turkey Mr. Celik?" Well, please enjoy!
Do you have perhaps any idea why Turkey is "nourishing" and "embracing" you, Mr. Ishak and Mr. George Sabra? What do Erdogan governments wants to achieve with that? Perhaps to use all of you as tools for establishment of Caliphate Middle-East?
3. On 2-2-2013 Hurriyet reported in an article entitled "Syriacs establish military council in Syria": "The Syriac community in Syria has established the "Syriac Military Council" to combat problems Syriacs face due to the conflicts in the country, the Council said in an official declaration issued Jan. 8.
"The Syriac Military Council will operate particularly in the areas where Syriacs are densely populated, including Aleppo, Damascus, Al-Hasakah, Latakia and Homs"
Is this "Military Council" comparable with the GHB that was established under supervision of PKK to recruit youngsters in the West? PKK supported GHB financially and also by other means. Who is supporting the recently established "military" council? Perhaps Muslim Brotherhood and government of Erdogan?
This "Syriac Military Council" needs money and weaponry. Who is providing them with these needs? Perhaps Saudi- Arabia, Gulf States and Turkey?
Who are the advisors of this military council? Perhaps Muslim Brotherhood?
The military council was established in February 2013 and it would operate in amongst other Aleppo. The two Aramean bishops were kidnapped on 22-4-2013. Why could the military not prevent the kidnapping?
According to various statements, the Turkish government had plundered factories in Aleppo and transported the machines and raw material to Turkey. Was it not possible for the council to prevent this from happening? Or perhaps did the council assist in the whole process?
O beloved reader, what unbelievable fools and idiots they are! They really don't understand anything of it. It is terrible with this people!
"Ashour Youssef, a member of the Council, said it would engage in military activities in order to make Syriacs stay in Syria. "We did not found the Council with aims of creating hostility or targeting a certain community. On the contrary, we aim to reflect our will for living in a peaceful and democratic atmosphere with the other communities," Youssef said"
Well Mr. Ashour Youssef, who is providing you with ammunition, training, communication and other important means necessary for a military council to operate adequately?
But… beloved reader… there is more.. much more….that can be said about the "love" between the government of Erdogan and the apostate Arameans who call themselves "Assyrians."
Fides News Agency reported on 8-5-2013 in an article entitled "A "Turkish plan" for Syriac Christians?": "The Ministry of Foreign Affairs of Turkey may offer Turkish citizenship to all Syriacs of the Christian community who are or have been related to former citizens of Turkey and who are now in a difficult situation in war-torn Syria. The hypothesis of a "Turkish plan" for Syrian Christians was outlined recently by Evgil Türker, head of the Federation of Syriac Associations in Turkey, during of a conference on relations between Turkey and Syriac Christians of Syrian nationality…"
"Chairman of Federation in Turkey, Mr. Evgil Turker?" who is this individual? Well, surprise, surprise, he is the former secretary of ESU!
"…..during of a conference on relations between Turkey and Syriac Christians of Syrian nationality……" Excuse us? Whose idea was this conference? "Relationship..... of… what?" Who were exactly this "participants?" All of them are puppets and messenger boys of Ankara? What does this all mean? To establish for example "Syriac……New.... council?"
"Citizenship to Christians from Syria?" But there are in Syria also Kurds, Armenians, Alevi, Sunni and other people who also originate from Turkey. So why not offering these people also Turkish citizenship? This is fishy, isn't it?
Could this "generous offer" of Turkey be a veiled plan to make claims on the northern Syria as a part of Turkey? Who could possibly have "advised" Mr. Turker to come up with this idea? Or is the meaning of "Turkish citizenship" that they will be not considered as distinct ethnic minority? Could that be the reason that the Kurds, Alevi, Armenian and Sunni are excluded from this "generous offer" of Turkey? This is quite interesting, isn't it?
Summarizing, we can say this:
The charm campaign of Erdogan government has produced many fruits. Mr. Erdogan has involved very competent individuals in his government. They are experienced people with very good communicative skills who are able to masterfully change their "enemies" into "friends" by means of honey- diplomacy.
For example: When they become aware that the gentlemen and ladies of SUA/WCA and SuryoyoSat can be made happy by posing together with them on a photo so that SuryoyoSat can make a "heroic" story around it in their newscast to inform the blind people about the "heroes" of SUA/WCA and of course in particular Mr. Messo who "are working very hard for our people"; then of course the Turkish diplomats will be most happy to cooperate! They understand too well that such photo-show will give a very good impression about Turkey and that is why they will cooperate. They know their psychology and they are using it against them. They trifle with their feelings of "sensation" and "photo-show" to factually mislead the poor people.
After that, they say to the blind and foolish people: Now we want you to give us money. We believe this is nothing but a modern form of sorcery and deceit! Unfortunately, it seems to work very well.
They indeed have impressed SUA/WCA, including Mr. Johny Messo, Daniel Gabriel and SuryoyoSat to such an extent that Mr. Messo throw his hat in the air with the words: "……Honestly, as I told before, since one-and-half or two years, we notice that the new generation Turks, their representatives at the European Parliament, at UN, they really are very much educated, they are open, and truly, they have a great love and respect for our people and in this way we want to develop ourselves………"
The result of this is that SUA/WCA and affiliate organizations, organize annual vacation to Tur Abdin. This year as well, they organized such "sensational" vacation to Tur Abdin. We believe that this warm-heartedness is a very bad signal!
With phrases like "constructive dialog", "cooperation" and other meaningless slogans, we believe that Mr. Messo, SUA/WCA and SuryoyoSat not only are fooling themselves, but also the unsuspecting poor Aramean people. And this is we believe very dangerous. They seem not to be aware of any danger and also do not give the impression they realize the possible consequences to the future of our people.
With ESU, SuryoyoTv and remaining GHB (they call themselves: MUB) and others, the advanced honey- diplomacy of government of Erdogan has gained much more results, so much so that some "Christians" even seems to be welcoming and cooperating a government in Syria of Muslim Brotherhood. This is indeed a huge achievement of the honey-diplomacy!
The government of Erdogan will utterly exploit this "love." They have at their disposal a powerful weapon which then can be used against the foreign critics of Turkey who regularly remember them of their history of heavy persecutions and extermination of minorities like Arameans.
The Turks will silence their critics as follows: "What are you talking about? Look, we have very good relationship with Syriac Universal Alliance (SUA)/World Council Arameans (WCA), which is representing a part of Syriac community. They organize annual vacations to Turkey, we do not interfere with them, they have all the freedom and go to everywhere they wish to, they visit their churches and villages and we have outstanding relationship with them.
Our diplomats and ambassadors are being received heartily by the people and their clergy in a warm and harmonious atmosphere. It is you, foreign powers who incite our Syriac brothers abroad against Turkey and create hatred. We have no any problem with our Syriac brothers, they are the original people of this country and are heartily welcome to their country and as evidence we present to you some videos and photos of various meetings which took place in a very relaxed and brotherly atmosphere.
In particular we want to underscore the meeting in Koln in 2011 in Germany and in Tur Abdin in 2011 in which the most respected and high intellectual Mr. Johny Messo, who enjoyed his education in the West, addressed the participants of the both meetings in a most relaxed, loving and brotherly manner. We love very much Syriac people, they are our brothers, we do not distinguish between religion, and advise and assist our brothers in every possible way. There are also many Syrians who come back to their indigenous land and build houses in Tur Abdin and enjoy annual vacation. All Syrians who are born here can come back after their retirement, request for a passport, and we will pay them retirement (pay). Some of our Syrian brothers are already making use of this possibility.
We also have a great respect to our Syrian brothers who criticize us, because we are open, honest and democratic country where everyone can have his own views. One of these brothers is for example the respected Tuma Celik and Bassam Ishak with whom we intensively cooperate. They are our brothers, they may criticize us and they have all the freedom to come to their lands as they wish.
You, foreigners and outsiders try to drive a wedge between us and our Syriac brothers by repeatedly referring to the past events. If you continue to do so, we will cancel our trade ties and will investigate which measures can be taken against your activities cultivating hatred and discord between us and our Syriac brothers abroad. You are the evildoers who ceaselessly are busy to destroy our lovely, harmonious and brotherly relationship with our Syriac brothers. "
And what will be the response of SUA/WCA, federations, SuryoyoSat, ESU and SuryoyoTv and others? Nothing, they probably will smoothen the matter and act as if nothing happened and continue with business as usual. The majority among our people consist out of blinds and hard hearings. They have no interest and are exerting no effort to analyze the consequences of activities of some individuals and organizations concerning their future, but follow like obedient sheep the stories that are told on the television. With such people, don't worry, you can do whatever you want, they will notice nothing!
And now the big surprise! Hurriyet News Paper reported on 2-6-2012 in an article entitled "Syriacs join forces under new group": "We are a people that pays respect to our churches and Metropolitans, but we want to break out of the definition of a religious congregation and [receive recognition] as a community. We are becoming civilianized," Evgil Türker, the head of the Syriac Associations Federation's management board, told the Hürriyet Daily News.
"Syriacs prefer to resolve their problems with Turkey inside the country itself, rather than discussing them in other countries' parliaments, he said"
Did you catch the phrase "prefer to solve their problems inside the country?" In other words, the evil foreigners are creating problems. Of course, those Arameans living in Turkey will not dare to demand anything, on the contrary, some of them will even not dare to confess they are "Christians", let alone to put demands on the table. Where are for example the Aramean Christians of Urfa? They all have been killed or became Muslims and go by names like "Kurds, Turks and Arabs."
5.2. Not only organizations, but unfortunately also the Church….
Unfortunately, the Charm offensive of Erdogan government not only has produced many fruits with so-called "organizations", but also with the Church.
Fides News Agency reported on 3-5-2013 in an article entitled "The Syrian Orthodox Metropolitan Kawak: Turkey help us to free the kidnapped bishops": "Turkey is important to resolve the situation of our two brother bishops of Aleppo kidnapped. The entire northern Syria is now somewhat under Turkish control, so it is important to talk with them. Every diplomatic and humanitarian initiative should point in that direction, also involving the Turkish leaders." This is what the Syrian Orthodox Metropolitan Jean Kawak, in charge of the patriarchal Office in Damascus told Fides Agency….."
Oh, but this is dangerous and it confirms our qualm that the kidnapping of these two bishops will be used to provide Turkey with more prominent role in the Middle-East!
Also please pay attention to the words of bishop Kawak as he says: "Every diplomatic and humanitarian initiative should point in that direction, also involving the Turkish leaders"
Are these words his own words or did someone else whisper it in his ears to give Turkey such an important place? Did he perhaps talk with Mr. Bassam Ishak or other "heroes" to carefully formulate his statement to underscore the importance of Turkey?
Does this bishop perhaps know more about it or is this just coincidence that he wants to involve Turkey? Is it possible beloved reader that the whole kidnapping has been arranged behind our backs and some people are trying to fool us?
Was there perhaps a real talk between Gul and Syrian Orthodox Church on Yohanna Ibrahim? Why did bishop Daniel Kourie made such a cardinal mistake and told the Lebanese Daily Star that Gul had spoken with officials of the Syrian Orthodox Church that he had been in contact with bishop Ibrahim?
In paragraph 5.1., we discussed how some apostate Arameans who call themselves "Assyrians" seem to be recruited by Turkey and state: "We have no hesitation about the Muslim Brotherhood's rule over the region; we are ready to support them……
Is this bishop perhaps also one of these people advertising Turkey? It is very strange and fishy indeed, isn't it?
On 19-3-2013, the Aramean leaders in Turkey had a meeting with Turkish Minister of Foreign Affair, Ahmed Davutoglu to discuss matters concerning Arameans of Turkey.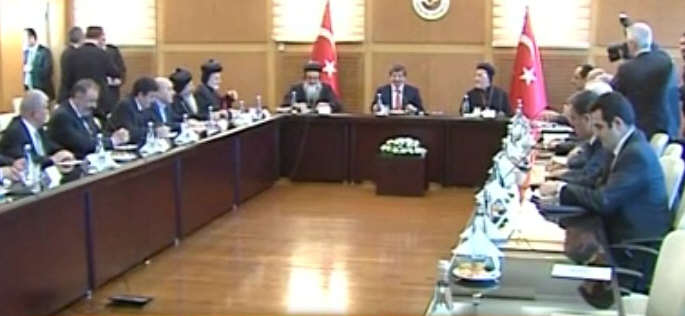 From left to right: Bishop Samuel Aktas of Tur Abdin,
Minister of Foreign Affair Ahmed Davutoglu, Bishop Yusuf Cetin of Istanbul.
Please pay attention that the Turkish flag is placed behind both bishops and that there is no flag behind Davutoglu.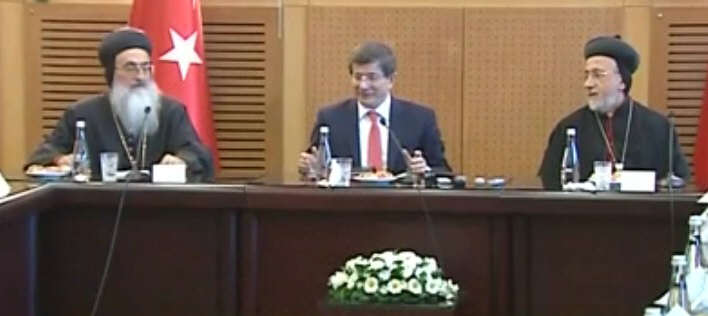 From left to right: Bishop Samuel Aktas of Tur Abdin,
Minister of Foreign Affair Ahmed Davutoglu, Bishop Yusuf Cetin of Istanbul.
The following clergy and their church councils participated in the meeting:
Bishop of Tur Abdin: Mgr. Samuel Aktas
Bishop of Istanbul: Mgr. Yusuf Cetin
Bishop of Adiyaman, Al Aziz, Adana and Antakya: Mgr. Melke Urek
Bishop of Mardin and Diyarbekir: Mgr. Saliba Ozman
Priest Yusuf Sag on behalf of Aramean Catholic community
During the meeting, various issues were discussed concerning Arameans of Turkey, including:
* Situation of Aramean refugees from Syria, including building separate refugee camp
* Aramean monastery St. Gabriel
* etc.. etc..
We appreciate of course very much that the situation of our people in Turkey is being discussed on high level, no bad word about that. However, we are very much concerned and here below we are going to convey our apprehension to our beloved reader.
1) On the photos of the meeting it can be seen clearly that behind bishop Samuel Aktas of Tur Abdin and Yusuf Cetin of Istanbul two Turkish flags are placed. Please notice that there is no flag placed behind the cunning, smart and very much experienced Ahmed Davutoglu. As we shall see, this is done intentionally and is not without meaning.
2) Now we will examine the form of the star that is positioned on the Turkish flag as clearly can be seen behind bishop Samuel Aktas of Tur Abdin. Please notice that the point of the star is downward, this has a very special meaning. The way the star is pictured, it has the form of the in occult /satanic world known Goat of Mendez- the Pentagram (5- pointed star). It is beyond the scope of this analyze to discuss the meaning of the Goat of Mendez. However, below, we present to you three articles that give a good impression about the Goat of Mendez.
http://www.cuttingedge.org/free11.html
http://www.cuttingedge.org/n1040.html
http://www.cuttingedge.org/News/n1601.cfm
3) The individual who placed the Turkish flag behind the two bishops and presented the star as shown on the photos, knew exactly what message he wanted to convey, all the more, since Davutoglu himself had no flag placed behind him. That individual wanted to signal worldwide Illuminati/ Occultists this message: We are your brothers and we have them fully under control, don't worry.
Be able to explain this to SuryoyoSat, Suleyman Akguc, Hazni Paulus, SUA/WCA, ESU and SuroyoTv, Yusuf Kangus (alias: Yusuf BetTuro) and the rest of them… you will not obtain any hearing….
Side note: Over 98% of inhabitants of Turkey do not understand the meaning of the star on their flag! They tell some stories about it, however that is not the real meaning! The Turkish elite of course are aware of the real meaning.
5.2.1. Bishop Yusuf Cetin, Bulent Arinc, Abdullah Gul.
We appreciate very much the activities of bishop Yusuf Cetin of Istanbul because we know that Yusuf Cetin is very reliable, faithful, honest and hardworking bishop. He has his heart on the right place and loves very much the Aramean nation.
Mgr. Yusuf Cetin, Aramean bishop of Istanbul

On 4-3-2013 Bulent Arinc, vice-premier of Turkey, came to Berlin to participate in a conference about religions in the German Parliament. He was accompanied by bishop Yusuf Cetin of Istanbul and Chairman of Church council. Together with the Turkish ambassador in Berlin they met with the Arameans of Berlin.

We read about Bulent Arinc: "Arınç is an Islamist and has been in the past years in Islamist parties. Following the closing of the Welfare Party by the Constitutional Court of Turkey on February 15, 1998, he transferred to the Virtue Party (Turkish: Fazilet Partisi). Arınç was elected in the 1999 general elections as deputy of Manisa, this time from he Virtue Party.[1] He became a member of the foreign affairs commission of the parliament.[1]……"
Bulent Arinc proposed the Aghia Sophia of Trobzan to be changed in a mosque: "Turkey's vice-president Bulent Arinc has proposed that the Aghia Sophia of Trabzon (not to be confused with the Hagia Sophia in Contantinople, another ancient church that became a mosque and is now a museum) be made a mosque.."
He reasoning is: "With this act we have regained the favor of our ancestors. The church of Aghia Sophia in Izmit is the result of conquest and as such, as it was used then, is right. A church can be transformed into a mosque. Both are places of prayer to God". Bulent Arinc concluded, "How many mosques have been transformed into our churches?"
The Ecumenical Patriarch of Constantinople, Bartholomew I objected the idea.
Beloved Aramean reader, please judge yourself whether it was good idea to join Bulent Arinc to Berlin or not.
A question: why was there no representative of Armenians, Kurds Alevi and other minorities from Turkey as well? Were they not asked or did they refuse to join the trip to Germany?
On 11-3-2013 President Abdullah Gul of Turkey visited Sweden. Bishop Yusuf Cetin of Istanbul was asked to join the trip as member of delegation. Hurriyet Daily News of 11-3-2013 reported in an article entitled "Turkish President Gül starts historic Sweden visit": "Accompanied by Deputy Prime Minister Ali Babacan, Foreign Minister Ahmet Davutoğlu and EU Minister Egemen Bağış, Gül attended a luncheon hosted by Swedish Finance Minister Anders Borg in Stockholm.
The visit has another historic aspect, as Patriarchal Vicar of the Syriac Orthodox Church Metropolitan Filiksinos Yusuf Çetin will be the first-ever representative of a Turkish minority to accompany the Turkish president during a visit abroad…"
All this together is very positive and bishop Yusuf Cetin is trying also to create a kind of mutual trust so that the rights of our people in Turkey better can be attained. It is very well known that he is a faithful hardworking bishop and is doing everything possible in his power to defend the interests of our people. No bad word about the faithfulness of Mgr. Yusuf Cetin. It is also known that in exemplary manner he manages to involve the youth within the church and doing his utmost best to work for the interest of our people.
However, beside many positive points, we also are very much worried. We fear that Erdogan government will use the reliability and faithfulness of bishop Yusuf Cetin to blind our people and present himself as "tolerant", "moderate" and "good will" towards minorities while the Aramean indigenous nation so far have seen nothing accept nice talks and promises without result.
What do we mean by that? When bishop Yusuf Cetin appears on television that he accompanied Bulent Arinc on his trip to Germany to participate in a conference and that President Abdullah Gul had asked him to became member of his delegation to Sweden, a feeling of comfort will be created within the Aramean indigenous nation through which our people will be less inclined to:
1. Demand of recognition of the horrific Aramean genocide of 1915
2. Demand of recognition of Aramean indigenous nation of Turkey
3. Ending the unnecessary and ludicrous lawsuits against the Aramean monastery St. Gabriel and other important matters of interest.
4. Demand for the social, cultural indigenous and other rights of our nation.
In doing so, the Aramean nation is kept quiet and sweat and Turkey can continue with her plans without bothering about our people. And we are very much worried about this.
We believe that kidnapping of the two Aramean bishops on 22-4-2013 could only take place with approval of Turkey and Western colonial powers.
We are very much worried that these bishops will be used for all-embracing deal for the Middle-East whereby they will be forced to cancel their support for Bashar Assad and throw in their lot with Muslim Brotherhood. This would be devastating to our people. It is also very well possible that this kidnapping is a signal from international Illuminati to our people in Syria like: Clear off, you have nothing to do here.
Therefore we call upon all the honest people worldwide to please exert your influence to make an end to this tasteless and objectionable kidnapping.
The government of Erdogan is since few years busy with extraordinary advanced charm offensive to win the heart of minorities of Turkey with attractive honey-diplomacy. He has employed people with outstanding communicative skills and manages to impress their opponents to such an extent that they stumble in the carefully prepared pitfall of honey-diplomacy. They study the psychology of their opponents and act thereupon.
SUA/WCA, the affiliate organizations, SuryoyoSat, ESU, SuroyoTv and others give the impression to have been bewitched by this exceptional advanced charm offensive of Erdogan government.
As Human Rights/ Cultural Organization we are utmost worried that our people is being maneuvered in very dangerous situations without that the nation is aware of the severe future consequences.
---

Subscribe to our newsletter.
Copyright © Aram-Naharaim Organization. All rights reserved.