Aramean people: Aramean people (not to be confused with 'Armenians') speak Aramaic, the language spoken by Abraham, Moses and Jesus. They are the indigenous people of what was called in ancient times Aram- Nahrin, in our days it is called 'Mesopotamia'.
Some Arameans today identify themselves with "Assyrians", because of the spiritual colonial hate generating activities of the Western missionaries and diplomats in the Middle-East in 16th and 19th centuries. Other Arameans became known as "Chaldeans". However all of them are Arameans.
In Turkey, the Arameans are called: Süryani. In Arabic they are called Al- Suryan.
---
Statements/ Letters by Patriarch Ignatius Afrem II Karim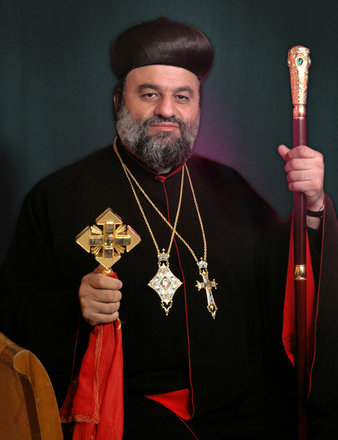 Patriarch Ignatius Afrem II Karim
Letter Aramean and Armenian Patriarchs to the United Nations:7-8-2014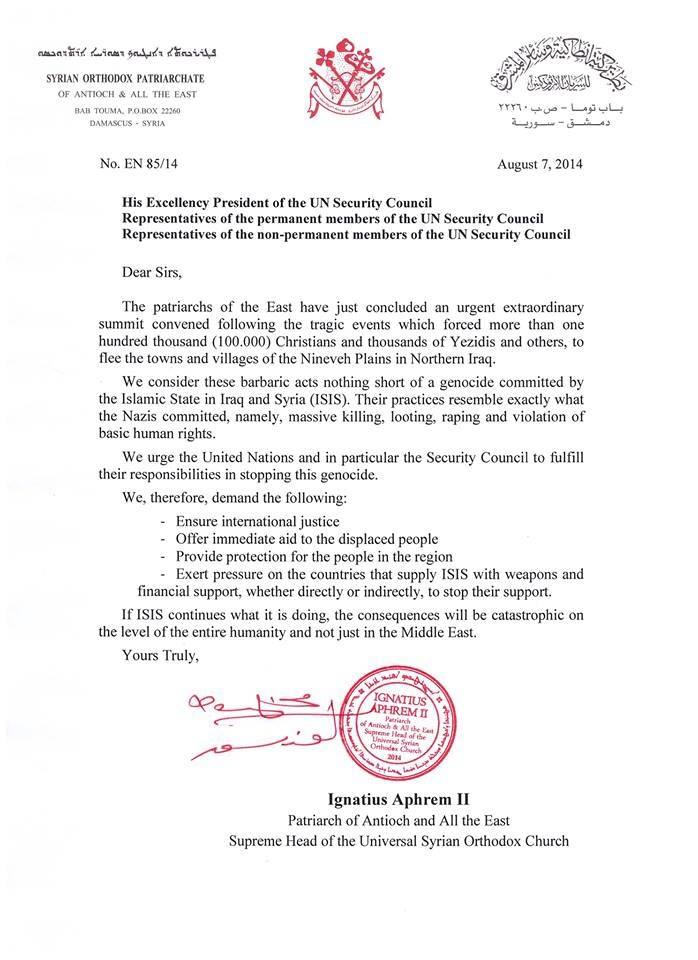 No. EN 85/14
August 7, 2014
His Excellency President of the UN Security Council
Representatives of the permanent members of the UN Security Council
Representatives of the non- permanent members of the UN Security Council
Dear Sirs,
The patriarchs of the East have just concluded an urgent extraordinary summit convened following the tragic events which forced more than one hundred thousand (100.000) Christians and thousands of Yezidis and others, to flee the towns and villages of Nineveh Plains in Northern Iraq.
We consider these barbaric acts nothing short of a genocide committed by the Islamic State in Iraq and Syria (ISIS). Their practices resemble exactly what the Nazis committed, namely, massive killing, looting, raping and violation of basic human rights.
We urge the United Nation and in particular the Security Council to fulfill their responsibilities in stopping this genocide.
We, therefore, demand the following:
- Ensure international justice
- Offer immediate
- Provide protection for the people in the region
- Exert pressure on the countries that supply ISIS with weapons and financial support, whether directly or indirectly, to stop their support.
If ISIS continues what it is doing, the consequences will be catastrophic on the level of the entire humanity and not just in the Middle East.
Yours Truly,
Ignatius Aphrem II
Patriarch of Antioch and All the East
Supreme Head of the Universal Syrian Orthodox Church
Present at the meeting: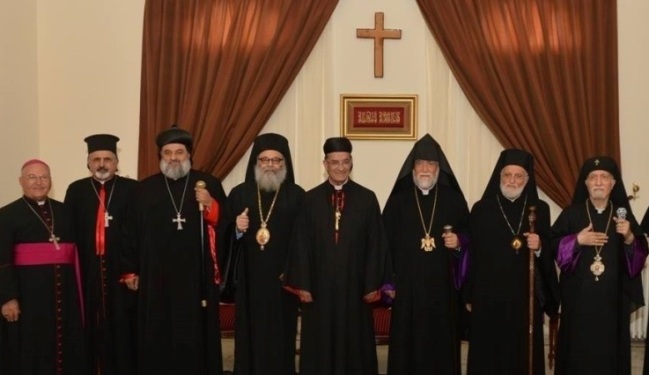 From left to right:
East-Aramean Syrian Chaldean Church, bishop Shlemoun Warduni on behalf of Patriarch Raphael Louis Sako
West- Aramean Syrian Catholic Church, Patriarch Ignatius Yousef III Younan
West-Aramean Syrian Orthodox Patriarch Ignatius Aphrem II Karim
West- Aramean Syrian (Melkite- Greek) Orthodox Church, Patriarch Youhanna X. Yazigi
West- Aramean Syrian Maronite Church, Patriarch Bechara Rai
Armenian Orthodox Church, Patriarch of Kilikia Catholicos Aram I Cachichian
West-Aramean Syrian (Melkite- Greek) Catholic Church, Patriarch Gregorius III Laham
Armenian Catholic Church, Patriarch Nersis Bedros XIX
---
Letter Patriarch to the United Nations: 29-7-2014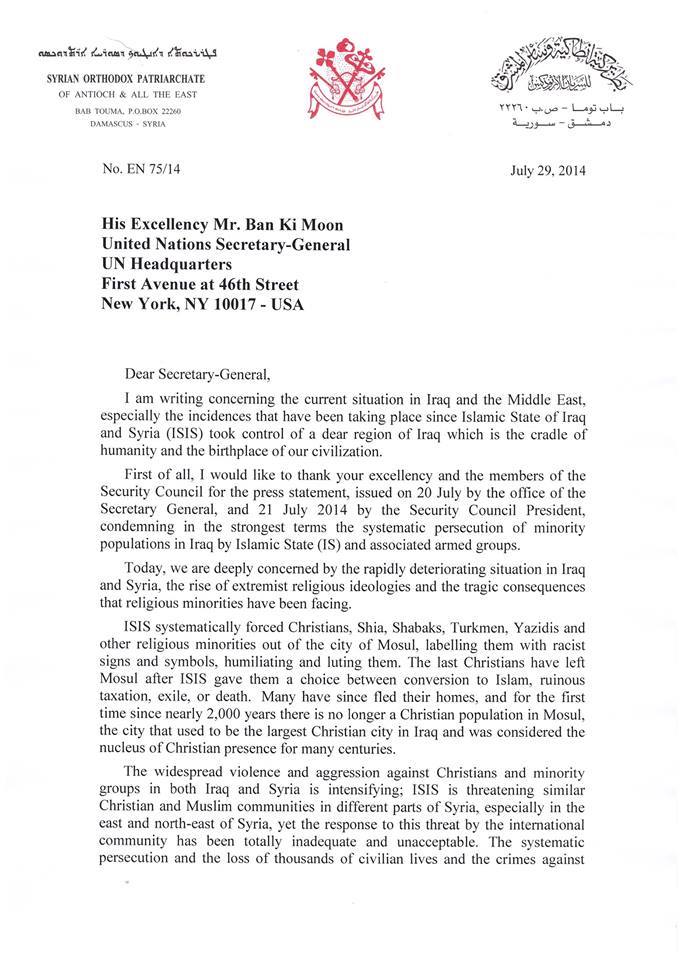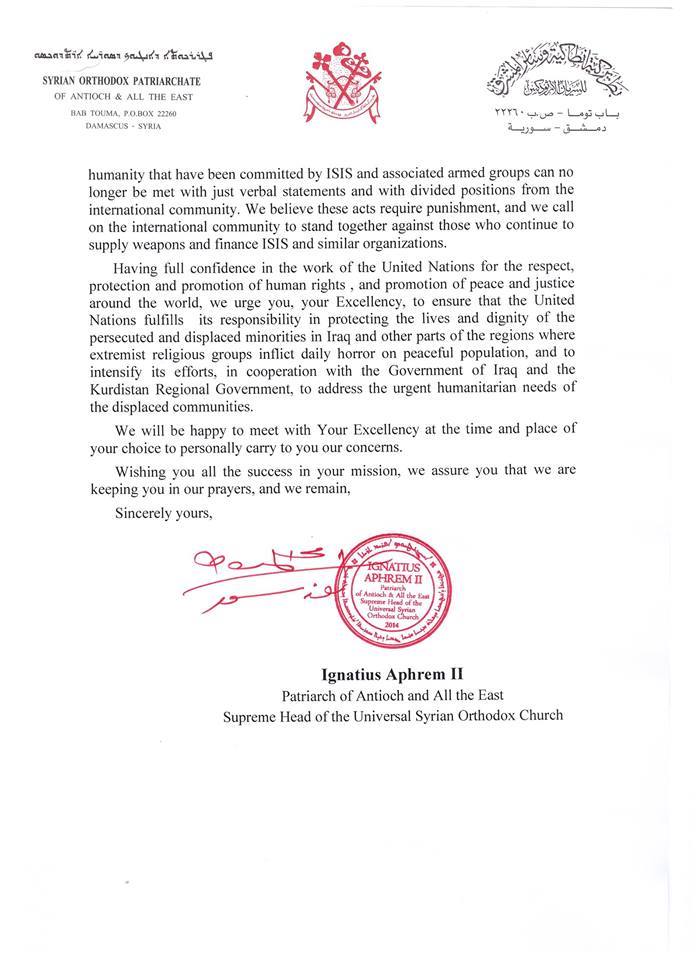 No. EN 75/14
July 29, 2014
His Excellency Mr. Ban Ki Moon
United Nations Secretary- General
UN Headquarters
First Avenue at 46th Street
New York, NY 10017- USA
Dear Secretary-General,
I am writing concerning the current situation in Iraq and the Middle East, especially the incidences that have taking place since Islamic State of Iraq and Syria (ISIS) took control of a dear region of Iraq which is cradle of humanity and the birthplace of our civilization.
First of all, I would like to thank your Excellency and the members of the Security Council for the press statement, issued on 20 July by the office of the Secretary General, and 21 July 2014 by the Security Council President, condemning in the strongest terms the systematic persecution of minority populations in Iraq by Islamic State (IS) and associated armed groups.
Today, we are deeply concerned by the rapidly deteriorating situation in Iraq and Syria, the rise of extremist religious ideologies and the tragic consequences that religious minorities have been facing.
ISIS systematically forced Christians, Shia, Shabaks, Turkmen, Yazidis and other religious minorities out of the city of Mosul, labeling them with racist signs and symbols, humiliating and looting them. The last Christians have left Mosul after ISIS gave them a choice between conversion to Islam, ruinous taxation, exile, or death. Many have since fled their homes, and for the first time since nearly 2,000 years there is no longer a Christian population in Mosul, the city that used to be largest Christian city in Iraq and was considered the nucleus of Christian presence for many centuries.
The widespread violence and aggression against Christians and minority groups in both Iraq and Syria is intensifying; ISIS is threatening similar Christians and Muslim communities in different parts of Syria, especially in the east and north-east of Syria, yet the response to this threat by the international community has been totally inadequate. The systematic persecution and the loss of thousands of civilian lives and the crimes against humanity committed by ISIS and associated armed groups can no longer be met with just verbal statements and with divided positions from international community. We believe these acts require punishment, and we call on the international community to stand together against those who continue to supply weapons and finance ISIS and similar organizations.
Having full confidence in the work of the United Nations for the respect, protection and promotion of human rights, and promotion of peace and justice around the world, we urge you, your Excellency, to ensure that the United Nations fulfills its responsibility in protecting the lives and dignity of the persecuted and displaced minorities in Iraq and other parts of the regions where extremist religious groups inflict daily horror on peaceful population, and to intensify its efforts, in cooperation with the Government of Iraq and the Kurdistan Regional Government, to address the urgent humanitarian needs of displaced minorities.
We will be happy to meet with Your Excellency at the time and place of your choice to personally carry to your concerns.
Wishing you all success in your mission, we assure you that we are keeping you in our prayers, and we remain,
Sincerely yours,
Ignatius Aphrem II
Patriarch of Antioch and All the East
Supreme Head of the Universal Syrian Orthodox Church
---
Statement Patriarch Ignatius Afrem Karim: 23-7-2014
Mor Ignatius Aphrem II
Patriarch of Antioch and All the East
Supreme Head of the Universal Syrian Orthodox Church

Following the Meeting with Representatives of the Churches of Mosul
Patriarchal Residence, Atchaneh – Bikfaya – Lebanon, July 23, 2014

Our people and beloved faithful in Iraq,
Our Displaced Children from Mosul,

Dear attendees,
The incidents, that have been taking place since "Islamic State of Iraq and Syria" (ISIS) took control of a dear region of Iraq which is the cradle of humanity and the birthplace of our civilization, are considered barbarian and unprecedented acts in the history of the Christian Muslim relations in this region. ISIS systematically forced Christians and some Muslims out of the city of Mosul labeling them with racist signs and symbols, humiliating and luting them. Therefore, we strongly condemn these acts, and assert that this type of actions and this practice of Islam do not represent the Islam we have lived with for more than thirteen centuries.
This kind of Islam does not revere the religious texts nor the human relationships. Thus, we call upon our Muslim fellows and their leadership to take a clear stance against these actions and this phenomenon that contradicts the Qur'anic text. At the same time, we are astonished by the silence of most Muslim religious leaders and civil dignitaries regarding what has been happening in Mosul.
The forced displacement of our people, the taking over of our churches, the destruction of our sacred shrines, and the stealing of the properties and the future of our people will not prevent us from fulfilling our mission in this dear Levant. This injustice, which is against the heavenly and human laws, will not compel us to ask for Western protection or help. It is not out of fear or weakness, but because we believe that we are the salt of this land and the witnesses of the Resurrection till eternity. Nonetheless, we request that our compatriots be faithful to our common religious, cultural and human values and support and strengthen the Christian presence in this part of the world. Solidarity statements are not enough, they should stand against and stop supporting those who supply weapons and finance ISIS and similar organizations. Such fanatic acts will surely backfire on those who perpetuate them sooner or later.
Moreover, we declare that we are going to address the United Nations and the highest international and the Human Rights Fora to hold them accountable to the Bill of Rights they claim to support. We will ask them to abide by the Bill of Rights with no selectiveness or discrimination based on nationality or social identity.
We insist that what has been inflicted on our people in Mosul is a war crime. Forced displacements on the basis of religious belief, be it Islam or Christianity, is a crime against humanity and requires punishment. Despite what it is going through, we wish to see our beloved Iraq united and embracing all of its components and providing them with their rights. We demand that the Iraqi government protect the rights of the Christians to remain in their land and live with dignity. Moreover, we ask our Kurdish compatriots to work with us to protect the Christian presence in order to preserve the historical and cultural diversity in the region.
On the other hand, we say to our people in Mosul, Nineveh plain and Iraq in general: we will try our best, using all possible means, to provide you with the requisites to have a dignified life through our faithful children in the East and our international relations in an attempt to help you stay in the land of your fathers and forefathers. We will also appeal for the recuperation of your belongings and properties.
Finally, we are working to convene an urgent meeting soon with our brothers the Patriarchs of the East to discuss and take decisions concerning what has happened in Mosul and what is happening to the Christians of the East. We will form a Christian delegation from the East to carry this cause to the United Nations and to other international platforms as deemed necessary.
We thank Their Eminences and Excellencies the representatives of the Syrian Catholic Church, Chaldean Church and Assyrian Church of the East along with the General Secretary of the Middle East Council of Churches and the Ambassador of Iraq in Lebanon for accepting our invitation and for their presence here to consult with us and to work together for the common interest of our suffering people in Mosul.
Thank you,
We also thank the press and journalists who responded positively to our invitation
****************************************************************
---

Subscribe to our newsletter.
Copyright © 2014 All rights reserved.
You have the permission to publish this article only if you add the whole link to it and for non commercial purposes only..